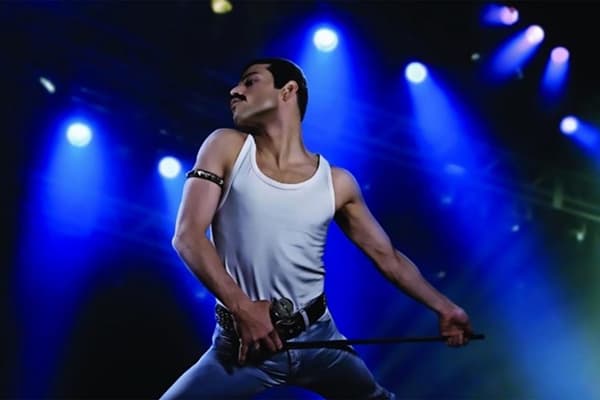 Bohemian Rhapsody gets just enough things right to make it an semi-enjoyable homage to the brilliant Freddie Mercury.
The film opens in 1985 as the band is about to go on stage for it's now legendary set at Live Aid. It then darts back in time, right as Freddie Bulsara (Rami Malek) – he hasn't changed his name yet – meets meets future band mates, Brian May (Gwilym Lee), Roger Taylor (Ben Hardy) and John Deacon (Joe Mazzello). As the band begins finding success, Mercury meets and starts a relationship with Mary (Lucy Boynton) who eventually becomes his wife.
The film follows the usual pattern of a biopic, the ups – signing their first contract, tours and euphoria of being a major success – and downs – the break-ups of both Queen and Mary, alienation of friends thanks to boyfriend (Allen Leech) and his diagnosis of AIDS.
The ending, the Live Aid performance, is pure celebration. The filmmakers re-created almost the whole 20-minute set, which if you think about it is a pretty ballsy move. Yet, it just shows the sheer force of nature that was Mercury and Queen.
As Mercury, Malik shows why he was chosen for the part. Except for the awful fake teeth they saddled him with, he plays the part with gusto and when he's onstage, pure ID. Boynton elevates the "girlfriend" role and is as important to the story as the actual band. As for the band, Lee, Hardy and Mazzello don't have a lot to do, except for react to Mercury's antics. They're never really given anything meaty to work with.
The film should have been taken a more gritty tone and matched Mercury's flamboyance. Unfortunately, original director Bryan Singer (he was replaced late in the production by Dexter Fletcher) chose to go with a Disney-ized version of the rock idol and the story of Queen. One example is that while it's implied, they never show any drug use. There is a quick popping of a pill and a few white lines on table, but that's it. It's the 70's! Everyone in a band did drugs. As for his sexuality, they never show anything more than a kiss, which just seems odd. As for the band, they are written as the 'World's Most Patient Men.' They are almost saint-like.
All that said, those who loved Mercury will take what they can get. Even a white-washed version is better than nothing.