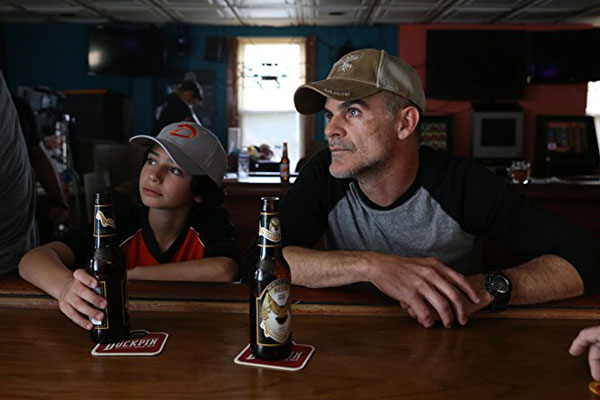 It's always nice to see an actor known for certain types of roles get a chance to play something different. Michael Kelly, probably best known for his role as the stoic Doug Stamper in the Netflix series, House of Cards, finally gets that chance in the enjoyable new film, All Square.
Kelly stars as John, a down-on-his-luck bookie who runs his operations inside of the local dive bar. He spends his days taking bets, hounding people for money and knocking back a few drinks. One night, he drunkenly hooks up with an old high-school ex (Pamela Adlon), who is his ex for a reason it turns out. When he wakes up that next day, he stumbles downstairs to find her son, Brian (Jesse Ray Sheps), making breakfast. He befriends the kid and soon ends up carting him to his little league games.
When he comes up with the idea to take bets on the games, he quickly finds that parents are all to eager to support the effort. He's got parents placing bets and others accusing him of ruining the league. All while he grows closer, reluctantly, to the kid.
All Square, written by Timothy Brady and directed by John Hyams, is a throwback to a kind of '70s style of storytelling and it's completely refreshing. The characters are who they are, there's no apologizing for them and the filmmakers don't feel the need to do that either. Everyone is who they are, whether you like it or not.
Sheps is just a regular kid who just wants to play baseball and hang out and there's not an ounce of Hollywood precociousness casting.
Kelly is terrific and shows a real flair for the kind of low-key comedy in the film. There's a great scene where Kelly is teaching the kid how to fight that's sure to make you laugh out loud.
The film could almost be a prequel to the original '70s version The Bad News Bears with Kelly being a young Buttermaker. He is who he is, like it or not. He, and really all of the characters, don't change by the end of the movie. If anything, they become a little more aware and understanding of their lot in life. But change? Not in this film and that's for the better.