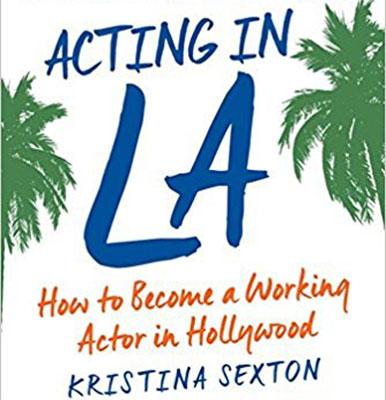 Almost every actor who picks up and moves to Los Angeles has a preconceived notion of what things will be like. Wherever you live, you might already have your headshots and reel ready to go, a place to live and maybe even a job lined up and some money saved. All those are great! But what you really need is someone to tell you the nuts and bolts of what it actually takes to live and get make a career as an actor in Hollywood.
Kristina Sexton's new book, Acting in LA: How to Become a Working Actor in Hollywood, can absolutely help. Whether you're about to pack up move west or are you're already settled and need a refresher.
Sexton was a working actress who appeared on shows like The Shield and Cold Case and is now an acting coach and acting teacher, so she knows what she's talking about. Sometimes these kind of books take forever to get to the point but thankfully, she dives right in and wastes no time. It also helps that she's got a nice style of writing that is easy to read and flows from one topic to the next.
You'll get the lowdown on headshots, resumes and demo reels, how to find your "image" and helps with the marketing aspect of your career. You also get info on joining the unions, agents and managers, the importance of creating your own work and how it's crucial to live a life outside of acting.
Less important is the list of onset terminology and set etiquette because the real meat listed above. Every actor would do well to grab a copy of this.