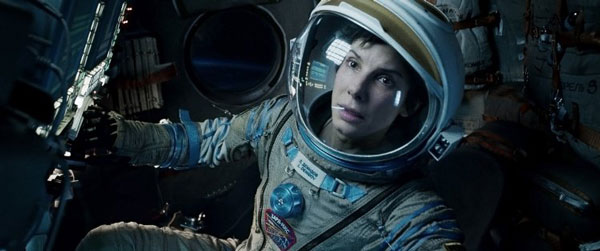 The most important thing to remember when you consider the news that Sandra Bullock topping this year's Forbes list of highest earning actresses is that the movie that is most responsible for that achievement, Gravity, was a movie that Warner Bros. was unsure about releasing.  That gamble paid off for Warner Bros., since Gravity grossed $716 million at the worldwide box office. It also paid off for Bullock: Forbes estimates that Bullock earned an astounding $51 million between June 2013 and June 2014 because of her roles in 2013's Gravity and The Heat.
Bullock made about a third less than Forbes' highest earning actor, Robert Downey Jr., who made $75 million during the same period, but she made nearly $20 million more than the woman whom Forbes earlier declared the most powerful actress in Hollywood: Jennifer Lawrence. Lawrence is #2 on the earners list at $34 million.
Third on the list is Jennifer Aniston, whose $31 million came from a combination of her film work (We're the Millers), her commercials for products like Aveeno, and, of course, her residuals from Friends. Similarly, Gwyneth Platrow is #4 on the list with $19 million for her role in the highest-grossing film of 2013, Iron Man 3, and her endorsements.
Tied for fifth place at $18 million are Angelina Jolie and Cameron Diaz. However, Jolie topped the list last year and is expected to be at the top (or close to it) next year's list because of the massive success of Maleficent.
As always, the list is made up of estimates that Forbes states are computed by talking to "agents, producers, lawyers and other in-the-know folks to figure out how much each celebrity earned from entertainment-related work during our 12 month time period."
The rest of the list includes Scarlett Johansson ($17 million), Amy Adams ($13 million), Natalie Portman ($13 million), and Kristen Stewart ($12 million).