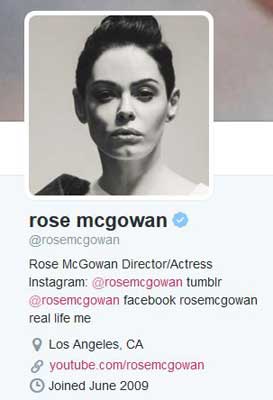 Charmed actress Rose McGowan has spoken out against sexism in Hollywood casting, and her remarks have apparently cost her dear- getting her fired from her agent.
On June 17, the actress tweeted a copy of the notes she received from a casting call, which advised her to wear a "form fitting tank that shows off cleavage" "form fitting leggings or jeans" and added that push-up bras were encouraged.
In most people's  eyes that is an outrageously sexist request, yet many actresses out there would follow the note without question; partly because requests such as this are commonplace (and this is by no means the worst of the bunch) and partly because they will comply with pretty much anything in order to get work.
casting note that came w/script I got today. For real. name of male star rhymes with Madam Panhandler hahahaha I die pic.twitter.com/lCWGTV537t

— rose mcgowan (@rosemcgowan) June 18, 2015
Casting agencies know this, which is why they're allowed to get away with it. However, it seems no one had banked on Rose McGowan very publically stating her opinion. Along with a copy of the notice, she tweeted that the male star's name rhymed with 'Madam Panhandler,' which most people figured and McGowan later confirmed, was Adam Sandler. Then, on June 24, McGowan tweeted that she had been fired by her "wussy acting agent" for speaking her mind on the matter. McGowan's Twitter was flooded with support, and screencaps of the Tweets have become viral on blogging sites such as Tumblr.
I just got fired by my wussy acting agent because I spoke up about the bullshit in Hollywood. Hahaha. #douchebags #awesome #BRINGIT

— rose mcgowan (@rosemcgowan) June 25, 2015
"It was just so dumb," McGowan later told Entertainment Weekly. "I was offended by the stupidity more than anything. I was offended by the fact that it went through so many people's hands and nobody red flagged it. This is normal to so many people. It was probably even a girl who had to type it up. This is institutionally okay."
It's a sad fact that few actresses have spoken out in support of McGowan since, except for The Princess Diaries' Heather Matarazzo, who also took to Twitter to reiterate that this is the tough reality for women in Hollywood. She encouraged others to tell their stories, and to call out the misogynists, but will they?
Until a lot of other people are willing to stand against this type of overt sexism and misogynistic attitude to female casting, nothing will change. Ultimately, while people are fearful of speaking out like McGowan did, casting agents and directors will continue with practices that are archaic and completely unreasonable, because they know they can get away with it.
via THR