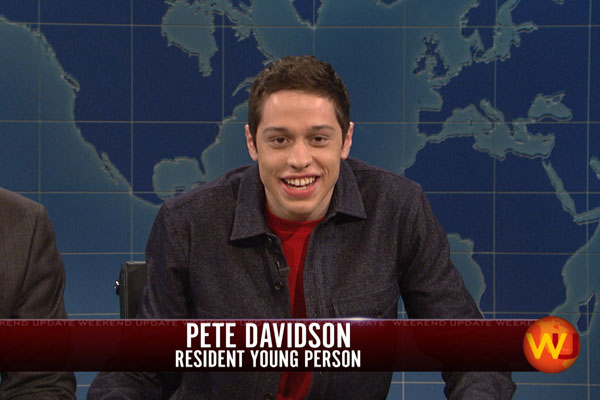 "

The schedule is insane. I'm probably the most tired one of all. Everyone else is used to not sleeping very

much, and I need to learn from them." – Pete Davidson on SNL


Dozens of young comedians have gotten their first big breaks working on Saturday Night Live during the program's forty year history. When it comes to featured player Pete Davidson, the emphasis really is on the word "young" — he became a featured player on Lorne Michaels' comedy institution before his twenty-first birthday.
Davidson started on his road to SNL at a very early age. He recalls, "I started doing stand-up when I was 16, my junior year in high school. My two friends and I would sit at home watching stand-up. They kept saying I should try it, and so I did. And it went…OK. So when everyone was doing after-school activities or going to parties, we'd be going to open mics."
Naturally, in order to land such a prestigious gig so early he had a little help from his friends — the cast of this summer's comedy Trainwreck. He explains, "I was so lucky. Amy Schumer is a good friend, and she called me up to do a bit part in Trainwreck. She said, 'It's going to be a three-person scene, we're going to improvise some lines, and the scene will be you, me, and Bill Hader.' Well, shit! I love Bill Hader! So it was really fun, and not long after that, Bill calls and says, 'Hey, buddy, I recommended you to Lorne. You're going to need to come in and audition.'"
Bill Hader On Shifting From Comedy to Drama: 'What if people don't accept me as an actor?"
Davidson joined the cast this season, and he confirms that SNL's production schedule is just as hectic as you'd imagine. He reveals, "The schedule is insane. I'm probably the most tired one of all. Everyone else is used to not sleeping very much, and I need to learn from them. I've been drinking a lot of coffee. It's hard. You don't see your friends or family that much. I don't see my girlfriend as often. But it's also great fun to write these amazing sketches and then get to do them. With super-famous people! And you meet them!"
via Maxim