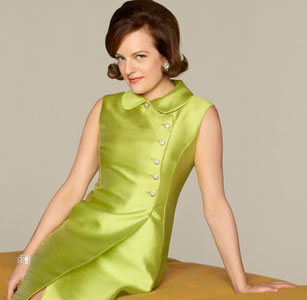 Elisabeth Moss has gotten to do some growing along with her character, Peggy Olson, as Mad Men has progressed over the years.
In an interview with AMCTV.com, Moss said, "I've known Peggy for six years.  What's great about that is when I started out I was 23 and now I'm 29, so I've changed a lot in six years.  So the sort of melding and blending of you changing and you growing up and the character changing and melding and growing is not an opportunity that you always get…We've never made [Peggy] really different from season to season or been like, oh, now she's wearing pantsuits and bossing everyone around.  I think she's changed enormously in the past five seasons.  But it's also been realistic."
Moss has also enjoyed having her co-star Jon Hamm direct as well as act alongside her.  She said, "One story from when Hamm was directing that's my favorite is when we were doing my scene with Ginsberg—when I interview him.  We did several takes and there's a lot going on in that scene, and I was over-thinking it maybe, and [Hamm] came up to me and said, 'You're doing great'…He knows me so well that he knows I was starting to go down a path that I shouldn't go down, and that all I needed to know was that I was doing a good job."
Mad Men airs on AMC, Sunday nights at 10 PM.