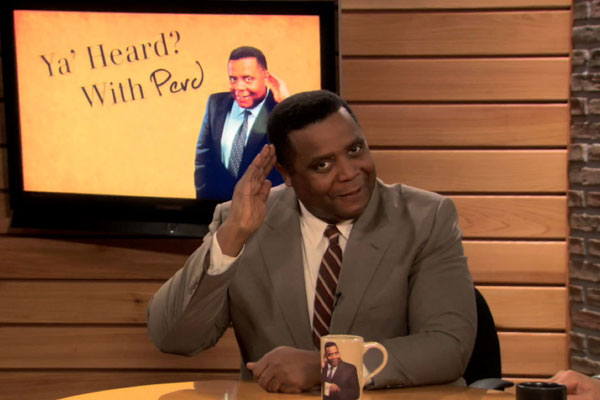 Perd Hapley might just be one of the greatest ever TV newscasters, fictional or otherwise. Those familiar with the brilliant Parks and Rec will recognize Jay Jackson from the show and his hilarious news spot: Ya' Heard With Perd, which regularly featured Amy Poehler's Leslie Knope as a guest.
This is the man who thought the Iron Lady movie was about Iron Man's wife, and once signed off with "I'm Perd Hapley and I just realized I'm not holding my microphone." He really is a legend, but did you know that Jackson is actually a trained newscaster himself?
Jackson quite simply always plays newscasters. As well as Parks and Rec, he's read the news on Scandal and The Mentalist as well as appearing in movies Battleship and Fast Five.
"People would say I'm typecast," Jackson says. "Well it's not typecast. It's all I know how to do."
Jackson spent 22 years as a reporter in Southern California, and actually came to be a fictional newscaster purely by accident.
"I run this school," he explains.  "The Los Angeles Reporter's Clinic. I help people become reporters by making their demo reels."
It was one such student reel that landed him his opportunity. With Jackson playing the role of newscaster and the student as the field reporter, the reel grabbed the attention of a manger who hired both the student and Jackson too.
The manager who saw the tape thought I was great," he says. "She was getting a lot of casting calls for reporters and anchors."
That's the big break," Jackson explains. "My big break came when I made that demo reel for the student. That's the only way it would've happened."
From there, Jackson made his acting debut reading the news on Dexter, and the rest followed, including the gem of a role on Parks and Rec.
"I'm not, like, some rich guy — I'm still broke," he says. "But it's cool, though. I like it. I enjoy it because my training is from Parks and Recreation and the actors on that set.
"I will say to Amy Poehler one day, 'It's because of you, you didn't know it, but you would teach me all of these ways of how to respond and how to act on set and how to be an actor.
"One day when I'm accepting my Oscar, I do want to say, 'I want to thank Amy Poehler for all of that.' I'm planning it out, I have it all written out, I want to see her smiling and the whole nine yards."
via NPR