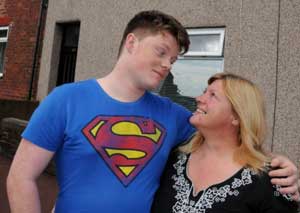 She better get a huge Mother's Day gift for this next May.
A UK mother named Anita Burns has taken out a second mortgage on her home in order to pay for her 19 year old son's education at the prestigious New York Conservatory for Dramatic Arts.  Her son (who isn't named in this BBC article) was one of only five people from the UK who were accepted into the school after an audition process.
In order to afford the tuition and life in New York — the article claims it will cost £60,000 over two years ($96,000!) — the teenager has been busking with his guitar, but it seems the only person in the world who could possibly make that much money busking is New York's own Naked Cowboy.  As a result, Anita decided to take this financially drastic step to help out her son.
"It is what he wants to do and what he has been working towards for the majority of his life," Anita Burns remarked, "I am just going to work all the time to get money so I will be busy.  It's going to be tough, but there is no pressure, this is an opportunity and if anything comes of it, that will be fantastic.  But even if nothing comes of it, at least he will have had the opportunity."
Anyone who's tried to have a career in the arts knows that it often takes a lot of sacrifice — and in some cases like this, sacrifices by your loved ones for you!  While many of those sacrifices are financial, oftentimes they are personal, too.  What's the greatest sacrifice you (or your loved ones) have had to make in your pursuit of your artistic dreams?  Let us know in the comments below!