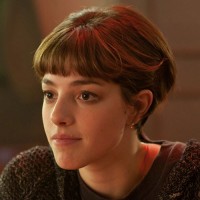 Olivia Thirlby was recently seen starring alongside Emile Hirsch, Max Minghella, and Rachael Taylor in Chris Gorak's The Darkest Hour. She will soon be seen starring opposite John Krasinski and Rosemarie DeWitt in Ry Russo–Young's Nobody Walks, a world premiere at the 2012 Sundance Film Festival; and in Pete Travis' upcoming Dredd, with Karl Urban as comic-book icon Judge Dredd.
She first gained audience and industry attention for two screen performances. These were as Flight 93 passenger Nicole Miller in the critically acclaimed realtime 9/11 drama United 93, directed by Academy Award nominee Paul Greengrass; and as Leah, best friend to Ellen Page's Juno in Jason Reitman's blockbuster Juno, written by Academy Award winner Diablo Cody.
Ms. Thirlby made her feature film debut starring with David Duchovny and Being Flynn's Lili Taylor in Vincent Perez's The Secret. Her other film credits include Jonathan Levine's The Wackness, which won the Audience Awards at the 2008 Sundance and Los Angeles International Film Festivals, starring opposite Josh Peck and Sir Ben Kingsley; David Gordon Green's Snow Angels, with Sam Rockwell and Kate Beckinsale; Ivan Reitman's No Strings Attached, opposite Natalie Portman and Ashton Kutcher; Jonathan Glatzer's What Goes Up, with Steve Coogan; Kenneth Lonergan's Margaret, opposite Anna Paquin; Scott McGehee and David Siegel's Uncertainty; John Hindman's The Answer Man, with Jeff Daniels; New York, I Love You, starring opposite Anton Yelchin in the segment directed by Brett Ratner; Daryl Wein's Breaking Upwards; Brian Koppelman and David Levien's Solitary Man, alongside Michael Douglas and Jesse Eisenberg; and the short film Eve, written and directed by Ms. Portman.
Her television credits include a recurring role opposite Jason Schwartzman on the series Bored to Death; and, in voiceover, the animated series Good Vibes.
Ms. Thirlby made her off-Broadway debut in the Atlantic Theater Company production of Farragut North, written by Beau Willimon and directed by Doug Hughes, starring alongside John Gallagher, Jr. and Chris Noth. She later reprised her role in the West Coast premiere of the production at the Geffen Playhouse.
She has extensive credits in classical Shakespeare, having studied at both the American Globe Theatre and at the Royal Academy of Dramatic Arts in London.
Biography/Filmography courtesy of Focus Features. Being Flynn opens March 2nd, 2012