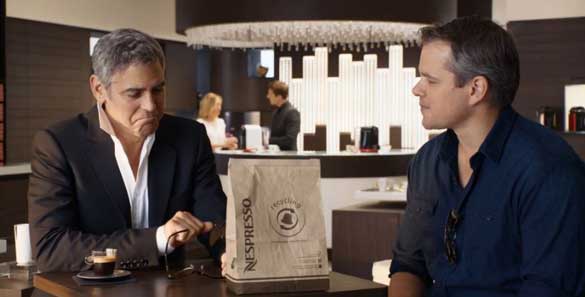 Matt Damon gets paid a lot for his movies, but  $200,000 a second?  No way, he just gets that for commercials.
Believe it or not, Damon was reportedly paid $3 million for a 15 second appearance in a Nespresso ad starring Hollywood buddy George Clooney.  The commercial was directed by Grant Heslov, who is a producer and co-writer of the upcoming film, The Monuments Men, which stars Clooney and Damon (Clooney also co-wrote and directed the film).  
While Clooney has regularly appeared in Nespresso ads in Europe for several years, Damon's only significant commercial work has been voicing TD Ameritrade commercials.  But his Nespresso ad serves as a sequel to Clooney's "In The Name of Pleasure" ad, in which a Clooney hits on a beautiful woman. However, she announces Clooney to all the woman around them so he is mobbed and she can enjoy her delicious coffee alone.  In the Damon addendum, Clooney does the same trick to Damon. As The New York Post points out, Damon "appears a little awkward in the slightly cheesy commercial." But Damon only says two words in the ad, meaning he got paid $1.5 million a word. 
If I got paid that much per word, this post would be worth over $300 million! I obviously got into the wrong line of work…
Check out the ads below: