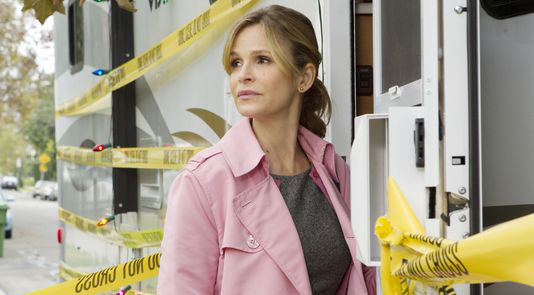 The Closer star Kyra Sedgwick is spending her summer vacation onstage instead of at the beach. She's marking her first full production of The Danish Widow, written by John Patrick Shanley,  for New York Stage and Film. It's a new work being developed at the Powerhouse Theater on the Vassar College campus.
The story revolves around a mystery that unfolds as Sedgwick's insurance investigator character battles wits against a Danish widow. The play closed after a successful two-week run on July 27.
The wife of Kevin Bacon talked about how hard the play was to do each night.
She said, "It's a tour de force. She's in every single scene. It runs the gamut emotionally. And it's a lot of words. I'm kind of a perfectionist, and I'm used to doing things to the point where I feel like they're as close to perfect as I can get them, and that's just not possible in a situation like this. I don't remember working on a new play where the writer was there, tweaking and changing all the time. That's been exciting and terrifying because things get changed, and you go, 'Okay, I had that stepping stone that was taking me to this, and now that's gone, and now I have to rethink this whole section.'"
This was the first time the TNT star had ever worked with the Tony-,Oscar- and Pulitzer Prize-winner Shanley.
She explained how his words affected her, "I feel like sometimes where I can go emotionally as an actor is never supported by the words, and there are many parts of this play where I feel utterly supported and can go to a very full emotional place knowing that the words are supporting me."
One thing Sedgwick did struggle with was the eight-show-a-week schedule. She has some thoughts on the performance requirements for so many shows.
"I do think that the eight-show-a-week thing is antiquated. It's diminishing returns. I just don't think you can expect eight great performances, and it's so hard for me to expect anything less of myself. I don't know how I would do that," she explained. "At some point, for something limited, and if I could beg the producers to somehow do less than eight shows a week, I would like to. Seven is good; six would be even better. The thing is I would never want someone else to go on for me. That would be the kicker. So maybe an Off-Off-Broadway thing where they can deal with six."
Sedgwick will head back to TNT in 2015 as a producer for 10 episodes of the new series Proof starring Jennifer Beals.