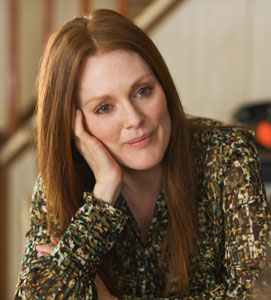 Julianne Moore most recently starred opposite Steve Carell in Glenn Ficarra and John Requa's hit comedy Crazy, Stupid, Love; and will soon be seen starring as Gov. Sarah Palin in Jay Roach's telefilm Game Change, based on the bestselling book by John Heileman and Mark Halperin.
She recently wrapped production, starring opposite Steve Coogan and Alexander Skarsgård, on Scott McGehee and David Siegel's What Maisie Knew, adapted from the Henry James novel of the same name; and is currently filming Craig Zisk's The English Teacher with Lily Collins, Greg Kinnear, and Nathan Lane.
Ms. Moore is one of only eleven people in Academy Awards history to receive two acting Oscar nominations in the same year; she was nominated for her performances in two 2002 films, Todd Haynes' Far from Heaven (also for Focus Features) and Stephen Daldry's The Hours. Far from Heaven earned her Best Actress citations from the Independent Spirit Awards, National Board of Review, the Los Angeles Film Critics Association, and the Broadcast Film Critics Association, among others; she also was a Golden Globe and Screen Actors Guild Award nominee for her portrayal. Her work in The Hours additionally brought her two Screen Actors Guild Award nominations, for her performance and as part of the ensemble.
She has been nominated for the Academy Award twice more, for her performances in Neil Jordan's The End of the Affair and Paul Thomas Anderson's Boogie Nights. These performances each also garnered her Golden Globe and Screen Actors Guild Award nominations. Ms. Moore was recently again a Golden Globe and Critics' Choice Award nominee for her performance in Tom Ford's A Single Man; and a Golden Globe and BAFTA Award nominee for her performance in Lisa Cholodenko's The Kids Are All Right (also for Focus Features).
Her many additional film credits include Paul Thomas Anderson's Magnolia, for which she was a Screen Actors Guild Award nominee; Todd Haynes' Safe, for which she was an Independent Spirit Award nominee, and I'm Not There; Robert Altman's Short Cuts, which earned her an Independent Spirit Award nomination and for which she shared a Golden Globe Award with the ensemble, and Cookie's Fortune; Fernando Meirelles' Blindness; Atom Egoyan's Chloe; Rebecca Miller's The Private Lives of Pippa Lee; Tom Kalin's Savage Grace; Joe Roth's Freedomland; Alfonso Cuarón's Children of Men; Jane Anderson's The Prize Winner of Defiance, Ohio; Ridley Scott's Hannibal; Oliver Parker's An Ideal Husband, for which she was a Golden Globe Award nominee; Joel and Ethan Coen's The Big Lebowski; Steven Spielberg's The Lost World: Jurassic Park; Merchant Ivory's Surviving Picasso; Louis Malle's Vanya on 42nd Street; Curtis Hanson's The Hand That Rocks the Cradle; and Bart Freundlich's The Myth of Fingerprints, World Traveler, and Trust the Man.
Ms. Moore has additionally been honored with the Ally Award at the 2011 Human Rights Campaign Gala; the Excellence in Media Award at the 2004 GLAAD Media Awards; the Actor Award at the 2002 Gotham Awards; and the Tribute to Independent Vision Award at the 2001 Sundance Film Festival.
After earning her B.F.A. from Boston University for the Performing Arts, she starred in a number of off-Broadway productions, including stagings of Caryl Churchill's Serious Money and Ice Cream/Hot Fudge at the Public Theater. Among her other stage credits are William Shakespeare's Hamlet, directed by Garland Wright, at Minneapolis' Guthrie Theater; and David Hare's The Vertical Hour, directed by Sam Mendes, which marked Ms. Moore's Broadway debut.
She is the author of the successful Freckleface Strawberry children's book series, having written three books to date. Additionally, an off-Broadway musical inspired by the books has been staged.