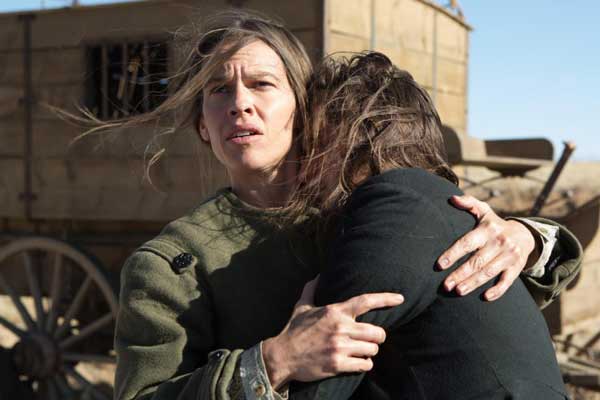 Hilary Swank's latest movie role has placed the Million Dollar Baby star opposite Tommy Lee Jones in The Homesman. The Pre-Civil War movie is set in Nebraska Territory and is told from the point of view of Mary Bee Cuddy, played by Swank. Cuddy is a tough, independent frontierswoman with old world substance and the need to do the right thing.
The film, coined a "feminist western" sees Cuddy save the life of a claim-jumper (played by Jones) after he agrees to do her a favor in return. Together to two travel the harsh and dangerous landscape to rescue three mentally ill women living in Iowa.
Swank recently caught up with Vulture to talk about the limited release and her role as Cuddy in the film co-written by Kieran Fitzgerald and Wesley Oliver.
"Sometimes I read great scripts that have great characters but I don't see myself in them, and I just can't be a part of them if that's the case," Swank said. I pretty much saw me in her right away. She has morals, she has values, she has manners … and I think those are really a lot of things missing in the world today. I often hear the word earnest like it's a bad thing. When did that become a bad thing?"
Swank spoke about what it was like to work under the direction of Jones, who she shared a great deal of screen time with as well in the November 14 release. "The beauty of it is that there is a shorthand. They know what it's like to be an actor. In the cases of Clint [Eastwood] and Tommy Lee, they've been doing it for so long that when they're sitting with you, you know they're right here. They're not across the room, watching you on a monitor — they are with you, they are in it. Sometimes other directors over direct and give me too many words, and I'm like, "I got it. I got it in the first two words."
The 40-year-old actress also discussed Jones' directorial techniques, commending the award winning performer for his decision to take on such a rare genre. "Very. He has a brilliant brain, and he certainly doesn't suffer fools and wear his heart on his sleeve — and why should he? He doesn't have to do that to please people. If he doesn't want to connect, he doesn't want to connect, but in the end, I think that this movie is just a shining example of defying stereotypes. People see Tommy Lee as this intense man, but in the end, he made a feminist movie, a beautiful love-letter to women. I think it's beautiful that he made that."
The Homesman also stars includes Meryl Streep, Hailee Steinfeld, John Lithgow, and James Spader.