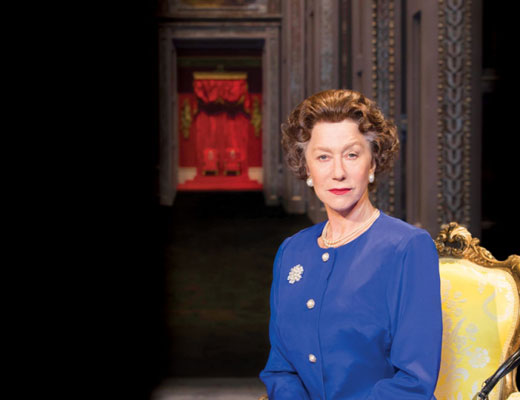 The annual Tony Awards are right around the corner and this year, Dame Helen Mirren finds herself nominated for Best Actress in a play, for her role as Her Majesty the Queen in The Audience.
Of course, she is no stranger to playing the reigning monarch, having already starred as Elizabeth II in the movie, The Queen, but her role in The Audience is slightly different.
The play imagines what takes place during the weekly meetings held between the Queen and her Prime Ministers, and there have been a lot in her sixty two year reign. For the role, Mirren has to age from 25 to 80 during the course of the show and given the level of commitment and hard work the role requires, it is easy to see why she is nominated. However, this is not the first time her name has been on the list.
"I was nominated for A Month in the Country [1995]," she tells the New York Post. "And Dance of Death [2002]. I think I went for Dance of Death."
Mirren enjoys being in New York. She has an apartment in the East Village, which she loves, and she says her first sight of Manhattan will always remain with her.
"I've always loved funky and young areas in any city. I prefer the small boutiques to the designer palaces. Other neighborhoods, like the West Village, are a bit chichi. We really love the East Village. It's noisy with foot traffic, not noisy with car traffic. I can get a taxi day or night. We love to take a stroll up to Union Square and check out the wonderful farmers markets."
"I cannot tell you how imprinted on my memory the first sight of Manhattan is. I was coming from Kennedy Airport in a taxi quite late at night, and at a certain point in the road, there was the whole of Manhattan… New York was so big and impressive and powerful. I still get that feeling every time I drive into Manhattan from the airport."
While Mirren is certainly wowing the Broadway crowds, she also admits she is looking forward to a break, comparing starring in a Broadway run to living your life like a nun.
"I should like to take a break and spend some time here with my husband. I'd like to go to a bar or a restaurant. I can't do that now. I am onstage for two hours every night. I can't go out. And right now I'm on the Tony march. I said to [fellow nominees] Kelli O'Hara and Kristin Chenoweth, "We all have to live like nuns."
Ethel Merman once told Elaine Stritch that if you want to be a Broadway star, "You have to live like a f -  – king nun!"
You do. You have to live like "a f –  - king nun." That is exactly what you have to do."