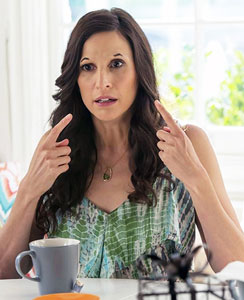 Michaela Watkins is enjoying success this season on ABC's Trophy Wife as Bradley Whitford's second of three wives. She's finally experiencing the perks of a steady gig after years of bouncing around different projects.
The 42-year-old actress talked to Vulture about what that change has meant to her career.
She explained, "I couldn't believe how much I loved it. It's probably how military brats feel when they grow up and get married and live in a house for more than four years at a time. When I got Trophy Wife, the first fear is this could go away; the second is it's here and I love it, I hope it gets a second season. You're always thinking this has to be finite, so I wonder when that end is going to come. I love working so much. For me, working equals happiness."
As Jackie in the new sitcom, she's comfortable playing the oddball, slightly on-the-edge type of character. Just don't ask her to wear that character after work hours are over.
"I play a lot of unhinged women, so these are women whose skin I don't want to be in for a long time, usually. Even with Jackie, I have to go home and take her off sometimes," she said.
Watkins' career in comedy also has an interesting footnote. She spent one season on NBC's famed Saturday Night Live during the 2008-2009 television season. She was not asked back after her short stint on the show.
"It was weird that most people knew me as someone let go from SNL. I had the best time there, and in retrospect it was the perfect amount of time. The only thing that matters is what you do with yourself in that moment after. If you decide, 'I'm the girl who was fired from SNL,' you're just that. You know what I did? I got together with my writing partner and we wrote scripts. And now I'm on the way to the set where it's put to series. [Benched, starring Eliza Coupe,]" she shared. "If I hadn't had the time to come back and gather my ducks, I wouldn't have written my first sitcom. I may never know why I was let go, but if I had to guess it was they found out I'm a little older than they thought when they hired me .[Laughs.] I'm laughing because I think it's a funny thing that could only happen before IMDb started printing everyone's ages."
It proves that there is indeed life after an SNL firing.