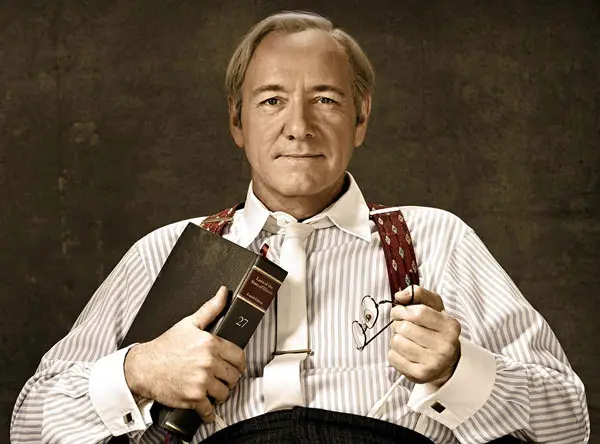 Is it just me, or are we hearing an increasing amount of stories about bad audience behavior in theaters recently? Earlier this week we heard about the actor who rushed into the audience to deal with an audience member shouting gay slurs at the actor playing Brick in a production of Cat on a Hot Tin Roof. It turns out that audience members on the other side of the Atlantic have behavior problems of their own. While that first incident took place in a small theater in California, the second example of rude behavior happened in one of London's most historic theaters and involved the award-winning actor of stage and screen, Kevin Spacey.
Spacey is currently starring in the one-man show Clarence Darrow to mark his tenth year as artistic director The Old Vic in London, a position he is stepping down from at the end of the year. Spacey previously played Darrow at the Old Vic in Inherit the Wind in 2009 and in the 1991 PBS film Darrow. In addition, this production is also special because it is the first time Spacey has ever done a one-man show and the first time he has ever performed a play in the round.
During the Wednesday night performance — which was opening night — Spacey was in the middle of an intense scene when the cell phone of an audience member went off. Instead of trying to silence the phone, the audience member let the phone ring. After a few rings, Spacey shouted in-character as Darrow, "If you don't answer that, I will!" Spacey's outburst received a round of applause, and he went on to continue his performance as if nothing had happened.
Although it's unfortunate that Spacey had to address it, I have to say that I don't see this as much of a threat. Wouldn't you love to have Kevin Spacey answer your phone calls, even if he is really pissed off?
via The Independent