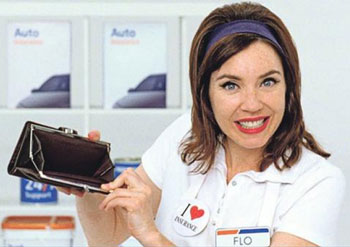 We've all seen or heard "Not a Paid Spokesperson" during commercials, which indicates that the person in the commercial truly loves the product he or she is pitching — and is not just being paid to say that (of course, they are usually being compensated anyway).  It's often an effective way to sell products, but the rise of so-called "reality commercials" — that is, commercials that cast non-professionals as spokespeople for the product — is bad news for commercial actors (who are already seeing declining pay).
Though it's certainly not a new practice, recent commercials for H&R Block, Bayer, Best Buy, and Ford have gone for this "reality" route.  As Carol Lynn Sher, an employee of the CESD Talent Agency in Los Angeles, points out, "People want the real cancer survivor, the real doctor, real fire eater.  Fewer actors being used for those roles and its taking away jobs." 
Of course, casting non-actors for commercials doesn't always work out.  Non-professionals are often uncomfortable in front of the camera and freeze or overcompensate by overacting.  But if a company wants authenticity in their advertising the ads can end up very effective.
In addition, this has become an even bigger issue for commercial actors now that big name stars like Robin Williams are appearing in Snickers commercials.  It's just one of many issues that commercial actors face as SAG-AFTRA negotiate a new contract for commercial actors with top advertisers.  While Sher believes a deal will be finalized, she admits that she's wary of the growing trend of reality commercials, pointing out, "I don't think anyone's worried about a strike at this point, but they are worried about this trend to more reality commercials."
And if the commercial actors do end up going on strike?  Well, get used to seeing a lot more reality commercials to fill the void.
via Yahoo!