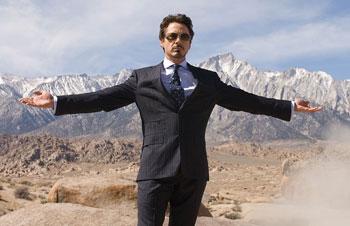 Earlier this week news floated out that Robert Downey Jr.'s long in the works Pinocchio movie might get an odd twist — Downey could end up playing both Geppetto and the famous puppet.  While that might sound like the most terrible idea since Roberto Benigni decided to play the wooden puppet as a fifty year old man, chances are that studios will go for it.
Why's that?  Because Downey's films make a tremendous amount of money, which is why he tops Forbes' annual list of highest paid actors in Hollywood.  According to the magazine, Downey earned $75 million between June 2012 and June 2013, though during that time Downey only appeared in two films.  Of course, those films were The Avengers and Iron Man 3, which have made nearly three billion dollars at the box office combined.  And although The Avengers was an ensemble movie, Downey was paid more than anyone else, including director Joss Whedon.
Forbes notes that the list was complied by talking "to agents, producers, managers and other people in-the-know to estimate earnings for each star," and that the magazine does not "deduct for taxes, agent fees or any of the other costs of being a celebrity."
Coming in at #2 is a newcomer to the list, Channing Tatum ($60 million).  Like Downey, Tatum had a year of big hits with 21 Jump Street, Magic Mike, and G.I. Joe: Retaliation (his most recent film, White House Down, might have bombed, but that won't affect Tatum's standing until next year's list).
Third is Hugh Jackman ($55 million), mainly for starring in Les Miserables, and fourth is Mark Wahlberg ($52 million), who played against his tough guy type last year by starring in the smash hit comedy Ted.  His Pain & Gain co-star, Dwayne "The Rock" Johnson, came in fifth at $46 million (no word if that includes his check from last year's WrestleMania).
Here's the rest of the list:
6) Leonardo DiCaprio ($39 million)
7) Adam Sandler ($37 million)
8) Tom Cruise ($35 million)
9) Denzel Washington ($33 million)
10) Liam Neeson ($32 million)