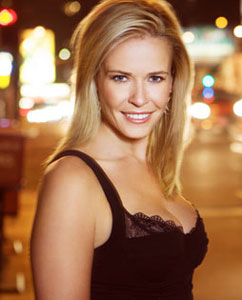 Chelsea Handler has one of the most exciting careers in entertainment with a resume that includes bestselling author, talk show host, comedian, and actress to name a few.
Recently named one of Glamour Magazine's 2011 Women of the Year, Chelsea is a permanent fixture in pop culture as she continues to build a multiplatform media empire. In July 2007, Chelsea broke into the world of late-night talk shows with her E! Entertainment series, Chelsea Lately, airing weeknights at 11:00PM and is consistently one of the network's highest-rated programs.
Both Handler and the show have also been recognized as pioneers in late night with the show boasting five female writers to account for half of its writing staff. This is unprecedented in the late night arena that has historically been dominated by male hosts and writers.
Capitalizing on the continued success of Chelsea Lately, Handler introduced audiences to her spinoff series After Lately last spring which garnered impressive ratings and an immediate cult following. After Lately, now in its second season, follows the outside lives of Chelsea Lately stars including Chelsea, Chuy Bravo, as well as the comedians and writers who appear regularly on her late night show. Made to feel like a true reality show, each episode is outlined (a la Curb Your Enthusiasm) and draws upon the entirely ridiculous – yet absolutely real – stories, events and people encompassing the world of Chelsea Lately. The show has also featured cameos by A-listers including Reese Witherspoon, with more celebrity appearances to come in season two.
Going in front of and behind the camera on yet another TV project, Chelsea is currently shooting a new scripted series for NBC, Are You There, Vodka? It's Me, Chelsea, as both an executive producer and a recurring guest star. The show is based on her second bestselling book. Laura Prepon, who starred in the hit sitcom That 70's Show, stars as the notoriously deviant and relentlessly amusing Ms. Handler, while the real Chelsea will frequently appear throughout the season as her sister Shoshanna. Chelsea is not only a beloved household name among television audiences but is also one of the leading nonfiction authors. Her first book, My Horizontal Life: A Collection of One Night Stands, published by Bloomsbury, was released in the U.S. and over twenty other countries, sold over a million copies. Her second book, Are You There, Vodka? It's Me, Chelsea, published by Simon Spotlight, debuted at #1 on the New York Times Best Sellers list in 2008, followed by Chelsea Chelsea Bang Bang, published by Grand Central Publishing in 2010. On March 28, 2010, Chelsea's three books held the #1, #2, and #3 spots on the New York Times' Best Seller lists simultaneously.
Grand Central Publishing signed Chelsea for her own imprint Borderline Amazing/A Chelsea Handler Book. Chelsea is currently signed on to pen three books for the imprint. Lies Chelsea Told Me debuted once again at #1 on the New York Times Bestsellers List. The second title, still in its preliminary stages, will be written through the eyes of Chelsea's affable dog, Chunk. The third book is undecided at this time.
Chelsea partnered with Live Nation for her Chelsea Chelsea Bang Bang comedy tour sponsored by Belvedere Vodka. Due to high demand and several sold out venues, Live Nation extended the tour three times since its launch. Chelsea performed 79 shows in 53 markets across the United States and in Canada. The Chelsea Chelsea Bang Bang tour sold over 250,000 tickets total to become one of the highest grossing of 2010. In May, Chelsea once again partnered with Live Nation and Belvedere for the Lies Chelsea Handler Told Me tour, based on her recent book. This time, Handler hit the road with fellow comedians Brad Wollack, Heather McDonald, and Josh Wolf in tow. The Lies tour sold out in venues across the country in the top 20 US markets.
In 2011, Chelsea had her first feature film role with a cameo in Universal Pictures' Hop, opposite Russell Brand and James Marsden. In 2012, she stars in two studio films – THIS MEANS WAR and in Paramount Picture's comedy Fun Size. Chelsea launched her acting career as the star of Oxygen's Girls Behaving Badly (now syndicated in over 90 markets) for all of its four seasons. She also starred on E! in The Chelsea Handler Show. In 2007 and 2008, Chelsea starred with Jenny McCarthy and Leah Remini in the hugely popular MSN online web series In The Motherhood.