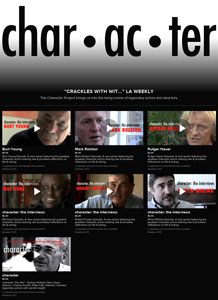 Our friend and occasional writer here at Daily Actor, Christian Meoli, is behind a new project called, The Character Project.
Originally a documentary, which was a work in progress for years, the producers set out to interview some of the best character actors working today. The DVD featured Dabney Coleman, Peter Falk, Charles Grodin, Mark Rydell, Harry Dean Stanton and Sydney Pollack.
Now, to supplement the documentary, they've created a website and added more interviews from some of the most recognizable actors who've ever appeared on film: Dom De Luise, Dan Lauria, Jack Klugman, Rutger Hauer, William Sadler, Ernie Hudson, Bill Duke, Ed Begley Jr., Robert Forster, Stephen Root, Scott Wilson, Saul Rubinek, Ed Asner (interviewed by Stephen Root), Henry Winkler, John Savage, Robert Loggia, David Paymer and in one of his last interviews, Charles Durning. 
They also have interviews with acting coach Larry Moss and casting director Mike Fenton.
Each interview is $5.99 and you can check them all out at The Character Project's website.