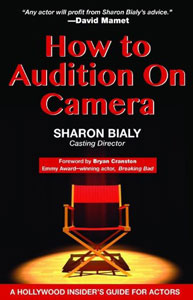 Written by Dan Franko
Just before the SAG Awards, I watched a SAG Foundation live-stream with several casting directors. One of them was Sharon Bialy, C.D. for Breaking Bad and The Walking Dead. I really enjoyed the tips and answers she was giving, in response to the questions, so when she mentioned that she'd written a book – How To Audition on Camera – I downloaded it right away.
The book is only available as a digital download. You can find it on pretty much any e-book platform.
How many times, as actors, have we wished that we could get an hour with a casting director, to pick their brain about what they look for, their pet peeves, and the tips they would offer. That's exactly what this book is. It feels like a conversation over coffee…or a private coaching session.
Some of the tips are simple, common sense things, such as "do the work." Rehearse and practice your audition piece as much as you can so you know it inside-out and be prepared and on time without excuses or exceptions. We all know that…but the personal insight from her perspective really underlines the point.
I loved her philosophy on auditioning…to look at every audition as a chance to act, instead of worrying about the outcome. Do the prep work in advance, so you can be as present and open in the 'room' as possible.
I think my favorite tip in the book is to 'serve the text.' Instead of making it about ourselves as performers and trying to stand out or 'show off'…make an impression by simply giving a read as grounded and connected to the text as possible. They're not just looking for great actors…they're looking for great actors who are right for this specific piece of text.
I'm not going to go into all of the tips I liked in the book, because it would take too long. I probably highlighted at least half of the book. (I guess we still call them books? It's like I still call collections of songs "CD's").
This is going to be a book I revisit regularly. I highly recommend all of my actor friends read it. It's like stealing the playbook of a team you're playing against or getting the cheat book to the latest call of duty game.
Thank you Sharon, for sharing these thoughts and tips. (hoping one day soon I'll have the chance to put them to use, auditioning for one of your projects).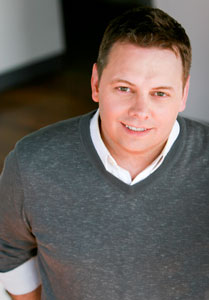 Dan Franko is an East-Coast based actor. He earned his bachelor's degree in Theatre Art from McDaniel College and has appeared on stage and in several indie shorts, webseries, films and television. Dan's credits include: Tony n' Tina's Wedding, ParaAbnormal, The Wire, and Lovely Molly. Most recently, Dan appeared as Eric, the sneezing "sh*t-gibbon" who infected the Vice President and her staff on HBO's VEEP.
Dan 'rides shotgun,' in running the Actors Club workshops (www.facebook.com/actorsclub) along with Ken Arnold at Studio Boh (www.studio-boh.com) in Baltimore, MD.
Follow Dan on Twitter: @danfranko