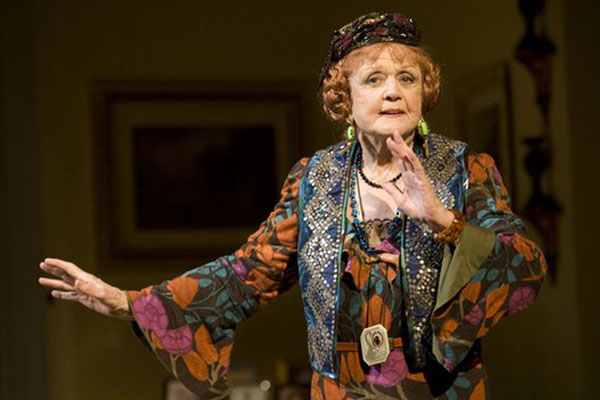 Are you a twenty, thirty, or forty-something actor who thinks doing eight shows a week in a theatrical production is grinding? You can stop complaining about it now. In fact, stop complaining about until you hit 90. That is because Angela Lansbury is currently performing eight shows a week as Madame Arcati in the national tour of Noel Coward's Blithe Spirit… and she is 89 years old.
Currently running at the Ahmanson Theatre, Blithe Spirit ends its run in Los Angeles on January 18. Thereafter it will move to San Franciso from January 20 to February 1, Toronto from February 10 to March 15, and finally Washington DC from March 17-29. Lansbury previously played the part in the 2009 Broadway production, for which she was awarded a Best Featured Actress Tony (her fifth). She also recently reprised the role in a 2014 West End production.
Of course, one can easily see the major differences between the brainy detective Jessica Fletcher, whom Lansbury played on TV's Murder, She Wrote from 1984 through 1996, and the clairvoyant Madame Arcati. In an interview with Fox News, Lansbury spoke about the differences between the characters.
She explains, "People say to me, 'Well, how can you play Jessica Fletcher and then you come along and play Madame Arcati?' I say, 'It's all about imagination.' That's what acting is, is imagination. If you don't have imagination, you're not going to want to play different roles. I've always wanted to attack roles that didn't appear to be something I'd ever done before."
In fact, she admits her twelve-year run as Fletcher, who she calls "a lovely woman to play," didn't require much acting at all. She says, "It didn't require acting ability on my part, at all — none. Arcati, on the other hand, requires every bit of imagination I can muster."
Imagination… and decades of experience, it seems.