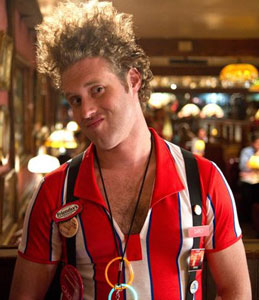 T.J. Miller is quickly becoming one of the industry's most sought-after comedians and actors. He has been cited by Variety as one of its "Top 10 Comics to Watch;" and as one of Entertainment Weekly's "Next Big Things in Comedy."
He first came to movie audiences' attention in Matt Reeves' hit Cloverfield, which marked his feature debut. He concurrently starred opposite Jerry O'Connell in the television series Carpoolers. Mr. Miller starred in and wrote two short films that notably played at the 2010 and 2011 Sundance Film Festivals; these were, respectively, Successful Alcoholics and I'm Having a Difficult Time Killing My Parents.
His feature films have included Mike Judge's Extract; Jim Field Smith's She's Out of My League; Nicholas Stoller's Get Him to the Greek; Rob Letterman's Gulliver's Travels; Eric Brevig's Yogi Bear; Jesse Peretz's Our Idiot Brother, with Paul Rudd and Kathryn Hahn; and Tony Scott's Unstoppable.
Mr. Miller voiced the character Tuffnut in Dean DeBlois and Chris Sanders' beloved animated feature How to Train Your Dragon, alongside Jay Baruchel and Kristen Wiig; he will reprise his role for the sequel, again directed by Mr. DeBlois. He will also be starring in voiceover in Tom Gianas and Ross Shuman's stop-motion animated feature Hell & Back.
He is currently crisscrossing the country performing his stand-up act. Last year he recorded his first hour-long stand-up special, T.J. Miller: No Real Reason, for Comedy Central, in his hometown of Denver; he has also released a music satire pop/hip-hop/folk album, The Extended Play EP, through Comedy Central Records.
Mr. Miller also performs in the sketch comedy group Heavy Weight, with Brady Novak, Mark Raterman, and Nick Vatterott. He toured with Second City in Chicago for almost two years; and insists on reminding people that he was the Regional Winner of the Sierra Mist Search for the Next Great Comic in 2005.
He currently resides in Los Angeles, where he struggles to find meaning in an uncertain world.