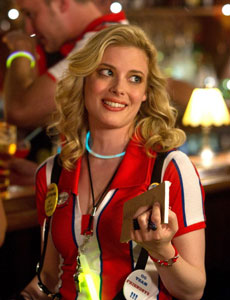 Gillian Jacobs vibrant presence has been noted by audiences in the film, stage, and television mediums.
In the latter,  she has portrayed Britta for all three seasons of the acclaimed comedy series Community, with Joel McHale.  Her guest appearances include ones on Law & Order: Criminal Intent, Royal Pains, The Good Wife, Fringe, and in an arc on The Book of Daniel.
In addition to Richard Kelly's cult film The Box, Ms. Jacobs' movie work has included such independent features as Clark Gregg's Choke, opposite Sam Rockwell and for which she shared the Sundance Film Festival's Special Jury Prize with her fellow actors; Damian Harris' Gardens of the Night, which premiered at the Berlin International Film Festival and which was a Prism Award nominee; Kathy Lindboe's NoNAMES, opposite James Badge Dale, for which she was a Best Actress nominee at Method Fest and for which she won a Special Jury Award for Best Acting Achievement at the Phoenix Film Festival; Joseph Infantolino's Helena from the Wedding, in which she played the title role; Brian Koppelman and David Levien's Solitary Man, alongside Michael Douglas; Will Frears' Coach, with Hugh Dancy;  and  four recently completed movies.  The latter are Shimon Dotan's Watching TV with the Red Chinese; Billy Federighi's Sin Bin; Brian Jett's Let Go; and Chadd Harbold's Revenge for Jolly!, starring as part of a stellar ensemble.
She has starred off-Broadway at the Public Theater in Stephen Adly Guirgis' play The Little Flower of East Orange, directed by Philip Seymour Hoffman, opposite Michael Shannon; in Sarah Treem's play A Feminine Ending,  directed by Blair Brown at Playwrights Horizons; and in Christopher Denham's play Cagelove, directed by Adam Rapp at the Rattlestick Playwrights Theater.
Ms. Jacobs received her Bachelor of Fine Arts at The Juilliard School.