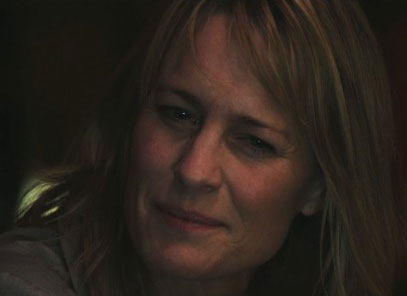 Robin Wright continues to make an indelible mark in Hollywood. She will next be seen in Robert Redford's riveting courtroom drama, The Conspirator opposite Justin Long and James McAvoy as Mary Surratt, a woman convicted of taking part in the conspiracy to assassinate President Abraham Lincoln. She received rave reviews for her portrayal of the title role in Rebecca Miller's The Private Lives of Pippa Lee opposite Julianne Moore, Alan Arkin, Keanu Reeves and Blake Lively. Robin was also recently seen in Robert Zemeckis' A Christmas Carol.
Wright has received many kudos for her outstanding performances over the years. She was recently honored with a career tribute at the 35th Annual Deauville Festival of American Cinema. Her first two nominations, a Golden Globe and Screen Actors Guild for Best Supporting Actress, came in 1995 for her unforgettable role as Jenny in Robert Zemeckis' Best Picture Oscar winner, Forrest Gump.  Wright earned her second Screen Actors Guild nomination for Best Lead Actress in Nick Cassavetes' She's So Lovely, and her third nomination for Best Actress in a Television Movie or Miniseries in Fred Schepisi's Empire Falls.  She has received three Independent Spirit nominations for her performances in Erin Dignam's Loved, Rodrigo Garcia's Nine Lives and Jeff Stanzler's Sorry, Haters. Additionally, Wright starred in and served as an executive producer on Deborah Kampmeier's Virgin, which received an Independent Spirit nomination for Best First Feature also known as the "John Cassavetes Award."
Other film credits include: Rob Reiner's cult classic The Princess Bride, Barry Levinson's What Just Happened? and Deborah Kampmeier's Houndog (which Wright also executive produced), Kevin Macdonald's State of Play, Anthony Minghella's Breaking and Entering, Robert Zemeckis' Beowulf, The Singing Detective, White Oleander, Hurlyburly, Sean Penn's The Pledge, Message in a Bottle, M. Night Shyamalan's Unbreakable, Pen Densham's Moll Flanders, Barry Levinson's Toys and Room 10 for GLAMOUR magazine's "Reel Women Film Series." 
Immediately following the completion of her work on Rampart, Wright began her role in the American remake of The Girl With the Dragon Tattoo for director David Fincher.
Filmography courtesy of Millennium Entertainment. Rampart is in theaters March 2nd, 2012.