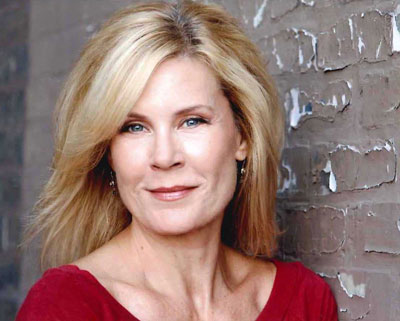 Hollis Resnick is currently touring the country as Mother Superior in the big crowd pleasing new musical, Sister Act.  The show, with a score from Alan Menken/Glenn Slater and Directed by Jerry Zaks, follows the same story line of the Whoopi Goldberg film of the same name except for one major difference, it's now set in the 70's.
Deloris Van Cartier (Ta'rea Campbell), now a disco diva, witnesses a murder and is put in protective custody in the one place cops are sure she won't be found – a convent.  She's disguised as a nun and finds herself quickly at odds with the uptight Mother Superior (Resnick). She starts to use her disco ways and singing voice to inspire the choir and breathe new life into the church, but in doing so blows her cover. 
Hollis, a big name in the Chicago theater scene, is no stranger to National Tours. You may have seen her in Les Miz, Dirty Rotten Scoundrels or even Thoroughly Modern Millie. When I talked to her about life on the road, she gave me a bit of advice for anyone who is looking to travel with a theater company: Pack light.
In the interview, we talk about the show, her life on the road, why she went back on tour and how she got the part.
Sister Act is currently playing in San Diego till August 4th (click here for tickets). Next up is Costa Mesa, CA. For more information, check out the Sister Act tour website. And, take a look at Hollis' website, hollisresnik.com.
This is a big crowd-pleasing show so I would imagine it's got to be kind of a kick for you and the rest of your cast members to kind of see the audience leaving with a smile on their face. You know?
Hollis Resnick: Well, they do. Every night they're up on their feet. I've got to say, it's really that kind of show. It really is. It's not deep, the story is what you saw in the film, the music, of course, is different, but we have a great cast, the choreography is wonderful, the musical score is very indicative of 1978, which is when our production takes place, and… yeah. It's fun. I mean, life on the road isn't always that great because you're living out of a suitcase and sometimes you don't have the best hotels, but, you know, it's work.
You got the part kind of a different way, a new techy sort of way.
Hollis Resnick: Well, it wasn't really new tech. I mean, people put themselves on tape all the time but I was in the middle of doing Angels in America and I was not about to fly to New York in the middle of doing this very grueling 7 and a half hour play. So I got a friend of mine and I went up to another theatre where I knew the casting director and she had a flip cam. And I had a friend who was in town visiting me and he read off camera with me. So I did the audition literally in 7 minutes on this little flip cam and I sent it to them. Honestly, on a lark because I said, "I'm not going in. I'm not going in." And Jerry Zaks had actually seen me audition before so it's not like I was unknown. But, yeah, within 3 days they made me an offer.
Really? That's awesome.
Hollis Resnick: It is unusual. It is. Yeah.
Were you looking to go back out on tour?
Hollis Resnick: No. In fact, I was already booked to do 3 other things and I gave up Art to do a big Broadway musical because I want to save money for my retirement.
I mean, you have to understand. At my age and being single and in this economy, you have to give and take a lot. And so I gave up 3 very nice artistic projects to make three times the money so I could go back and do Art. That's what you have to do sometimes.
How do you keep your voice up in tip top shape while you're on the road?
Hollis Resnick: Well, my… this show is not as vocally demanding for me. I only have 2 songs. I mean, if I was reading Momma Rose it would be a different story, I would be very quiet all during the day. But for this one I can just be kind of normal. Get a good night's sleep, eat right, just take care of yourself in a good way. I get a lot of exercise.
You play Mother Superior. Is there any sort of change from the musical to the film? Because you know everybody, everybody, knows the film.
Hollis Resnick: The story is the same, it's very similar, it just takes place in 1978. The film took place in 1992, so we have a musical score that's very indicative of that disco/pop era with all the disco balls and the glitz and the sequins. That's a little bit different. I think, you know, we have a brand new score. It's completely different. It's written by Alan Menken who did Beauty and the Beast and a lot of other things. That's the main difference. The story is basically exactly the same.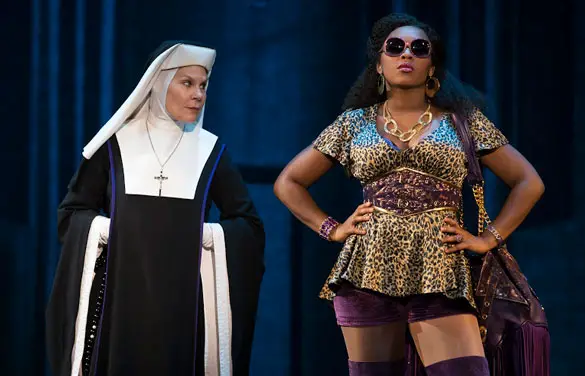 What would you say to somebody who's going out on tour for the first time?
Hollis Resnick: Pack light. Because you're lugging suitcases every week.
Do you have just a huge suitcase with your life in there?
Hollis Resnick: Well, I have two big suitcases. I'm lucky because I'm a principal I travel with 2 big trunks. So I get a few more perks than some of the ensemble people do just because of the nature of the role. That's the way it goes. So my life is sometimes a little bit more comfortable. But just pack light.
Did you always know that you wanted to be an actor?
Hollis Resnick: Always. Yeah. Always. I come from a very musical family, so I… and it's not that I only do musicals. I've done Shakespeare and Moliere and Molnar and Lillian Hellman. Actually, I prefer not to sing. I prefer to do plays, but that's what I've always wanted to do as long as I can remember.
What was your first professional gig?
Hollis Resnick: My first professional gig? Well, you know, I was in college and I did summer stock and when I got out of college I think my first couple of professional gigs were in Chicago, because that's where I moved. I did one of the witches in Macbeth and I did… I was in the ensemble of Cyrano de Bergerac at The Goodman. I played a lot of little different ensemble-y parts. And I was probably 25 at the time.
Is that how you got your equity card?
Hollis Resnick: No, I got my equity card during a big industrial show for Firestone Tires.
Nice!
Hollis Resnick: Yeah, and I did… and it actually took me out of the poor house. I did a lot of… I got hooked up with an industrial producer, they used to be very popular in the early 80's. They used to hire talent all the time. Now they just do the multimedia stuff. And I had hooked up with a producer that just kept hiring me to do them, so I did things for, I don't know, Dupont and Firestone and things like that.
And then I got cast as Kim in Bye Bye Birdie at a big dinner theatre house in Chicago and once people learned I could sing, the next 10 years was just these big musical roles.
And then after that I said, "Wait a minute, I can do other things," so then I started switching back and forth from plays to musicals, plays to musicals. So I've really been lucky because I fell in love with everything.
You've done a bunch of tours and I saw your resume is huge. Do you still get excited when you book a part?
Hollis Resnick: Of course! Of course! You feel validated. You feel like you've done your job. You feel like you have something to offer. And I think all I've ever really wanted to was tell a really good, honest story. I like telling stories. I like engaging people in something emotional.
What's the worst audition you've had?
Hollis Resnick: Oh God, I've had so many I can't even think of one. The worst audition. Probably some dance audition because I never was a great, great dancer. I was a good mover, but I can't tap very well. So if I had to tap at all I wasn't very good. I can't remember anything specific.
What's your advice to actors?
Hollis Resnick: Well, that's hard because things have changed so much. Leave your ego at the door. I know it's hard, but it's possible and I think… yeah. I think that's one of the most important things for young people to learn. Because I think it separates the men from the boys, I really do. I mean, people are always going to get to a celebrity status without being enormously talented because that's the culture we live in.
But I prefer integrity always, above anything else.