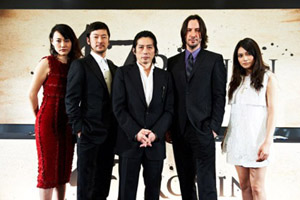 Japanese actors Hiroyuki Sanada, Kou Shibasaki, Tadanobu Asano and Rinko Kikuchi have joined the cast of 47 Ronin, the upcoming Universal picture starring Keanu Reeves.
The action flick is based on the Japanese legend about a group of samurai who seek vengeance against an overlord who banished them. Reeves will play  Kai, an outcast who joins Oishi (Sanada), the leader of the 47 Ronin.
According to Variety, Universal was insistent on casting actors of Japanese descent in order to stay true to the film's story.
Sanada appeared in The Last Samurai and Sunshine and played Dogen in the final season of "Lost." Kikuchi was nominated for an Academy Award for her portrayal of "Chieko Wataya" in the film Babel. Asano can be seen in the upcoming  films Thor and Battleship.
47 Ronin is set to be released in 3D on Nov. 11, 2012.