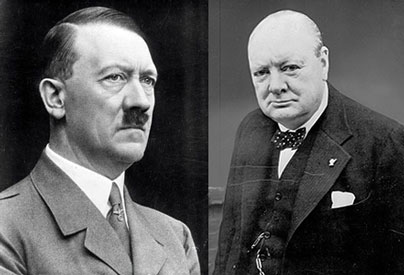 "Hey, has anyone ever told you that you look like Adolf Hitler?"
I can't imagine many people ever wanted to hear someone say that to them, but if you just happen to look like one of history's most hated men The History Channel might have a job for you.  The channel is looking for men who resemble Hitler (age 25-56), Winston Churchill (age 35-65), and Franklin Roosevelt (age 30-60) for a six hour docu-drama miniseries.  No acting experience is required for the four week shoot (three weeks on the east coast of the U.S., one week in Germany), and will pay $300-350 a day plus expenses.
The ad says that "The most important thing is a physical resemblance to the actual historical figures," so even if you have a non-acting uncle who suspiciously looks like Churchill (even if he has a thick Chicago accent), this might be his lucky break!
If you're interested, check out the Craigslist posting here!