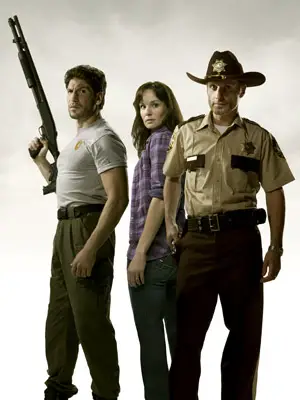 Are you ready for some zombies? This Sunday, AMC will premiere it's new series, The Walking Dead. Directed by Frank Darabont and produced by Gale Anne Hurd, the show tells the story of life following a zombie apocalypse.
Yes, the show is about zombies but its also about the relationships these characters form between themselves. I've seen the first two episodes and the show and acting is great! I promise that you will love this show.
I talked with the stars, Andrew Lincoln, Jon Bernthal and Sarah Wayne Callies in a round-table interview at Comic-Con where we talked about the show, working with Frank Darabont, acting with zombies and more!
How do you feel about the fan reaction?
Andrew: It was amazing. It is amazing just to be here.
Was that the first time you saw the footage?
Andrew: No, I don't watch, but I heard it, it sounded amazing. (laughter) These people have lived with this novel for seven years and you just- as soon as you look at them you realize the loyalty and the affection and the passion for the subject matter. And obviously we want to serve that and be responsible to it and make sure that we give them what they want.
This is going to be based on the comic and that it will take its own direction on occasion. There's probably certain sections of the comic you've read that are like, 'Whoa is that where I'm going?' Are you worried that it might go in a direction in the comic that you don't think it should as a character?
Jon: Death sucks.
Exactly, I didn't want to say.
Jon: You definitely don't want to get killed.
I think that we all believe in this so much and we all love each other so much and again, that's not bullshit. It's the truth. I feel so blessed to be a part of this thing.  It's such an honor and for me. Yeah, I know where potentially [my character's]  headed – which is really sad for me I don't want it to happen – but I also believe in this so much, I want to serve it. And I just hope it's, if and when it does happen, it's earned. And I do it justice.
Has it been a fairly collaborative process while you're actually on set? Has Frank Darabont allowed you to say, "I had an idea about this scene or I don't think my character would say that." Little things like that?
Andrew: The script is excellent and I can only speak for myself, but I've never wanted to change a word that Frank's written or anyone else. But he is very open to how you see a scene. He's just a great guy to work with; he's one of the great directors that I've ever worked for. I'd kill to work with him again, he's amazing.
Sarah: The good news is you might not have to.
Andrew: Everybody is bringing something to this project and everybody in front and behind the camera is some of the best people in the business. A great director friend Roger Michell always said, 'listen to very talented people, ask their advice,' and I think that's what's happening in this. It feels very exciting to be on set.
Sarah: The thing that I find really amazing about Frank is he has a reason for everything. And so, if there is a discussion or a question, his reasoning will be woven into the fabric of, "Well in season four I'm going to need you to X, so we need you-" I'm not even kidding. It's really great.
So many times in television you end up with a director who is like, "It'll be faster if we do it like this." And his logic is just unimpeachable.
Andrew: A case in point, there was a bed in front of the door in the hospital and he went off on a 10 minute explanation of why that bed was there and I went '…right.' (laughter) We're in something deep here. And it's incredible. Incredible. And that sort of level of attention to detail and care goes throughout the whole set really.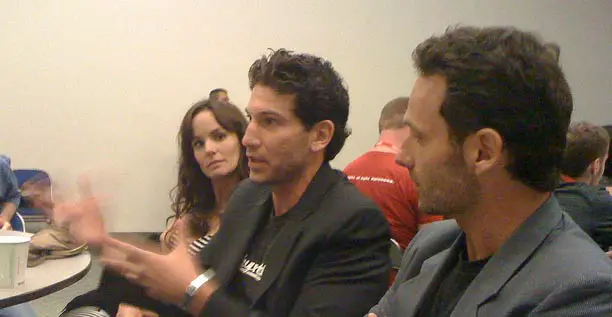 So the first time you acted against the zombies in makeup, what was that like?
Andrew: We keep the zombies very far away from us when we're being made up. It's a very dangerous place in [Greg] Nicotero's lair. But it was day four I think of the filming and we only realized what we were in the first day that I saw my- killed my first zombie. And it was extraordinary. Extraordinary. It was a liberation.
They started small as well. It was a 10 year old, a little girl, then they had a girl again and she was just to torso, so they worked up. They sort of got bigger and scarier.
There seems to be a lot of English actors in American television at the moment, what do you think the reason is?
Andrew: Not much work back home.
Sarah: It's the British imperial spirit, they're colonizing Hollywood.
Andrew: Well, I don't know, I can't tell you exactly why but you should ask Frank really. I mean he cast me in it. I think that there are a lot of very good scripts being made over here and I think some of the best writing on television and in cinema is happening in this country.
And also, it opens up a whole different exciting casting potential for English actors and why wouldn't you want that. I don't want to be at the end of my career, a dottery old wheel-chair bound man saying, 'I've never tried to make it in America.' It's just amazing. I'm having the time of my life. Why wouldn't I want to work in this country?
But I agree with you there's a lot of English actors over here and you guys have been extremely hospitable to all of us I thank you very much.
When your agents first contacted you and said, "We've got an audition for you. It's about zombies." What was your initial reaction? I mean, before you knew who was attached to the project or anything.
Jon: I had no idea what it was about, I just got the script and went and read it and I was like holy shit. I don't know I never ever looked at it as a zombie thing. I think had I got the phone call you're talking about I may have prejudged it as I think a lot of people will.
I think a lot of people will say, 'a zombie show? That's not for me.' But I think one of the wonderful things about being on, what I think is the best network in television right now, is a lot of people are going to watch it who wouldn't watch it if they heard what you said.
And I think if they watch it, those people are going to really really dig what's going on. And like Andy said, it gets flipped on its ass every episode from scene to scene it's so many different genres and I think the relationships are there. And the writing and the directing and the effects- it's there. And we're trying to do our share too.
Sarah: You're right it sounds crazy. Because I did get that call, and I don't know why but my agent called me up and said, 'Hey I'm going to send you a zombie pilot!' I was like, 'Why? It sounds like a terrible idea.' And then he goes into the well, 'Frank Darabont and Gale Anne Hurd and Greg Nicotero on AMC.' And at that point I'm on the other end of the spectrum just saying, 'I don't have to read it, I'm in.'
I just wanted to ask if your character was southern and if so how do you transition your English accent into the southern-ness of Atlanta?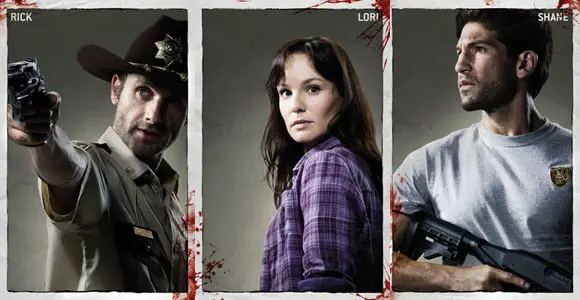 Andrew: Yeah, with the help of a dialect coach. I came out a couple of weeks before we started filming, just to get a sense of place and then work with her. Yeah, she's brilliant.
This is the first time I've been speaking my actual accent for a long time. And they don't believe me they think I'm putting it on.
Jon: When we were in our first week, the dialect coach and Andy and I – Jessica Drake's her name – we went out to dinner and the woman who owned the restaurant came around and she does the thing where she rubs everybody's back, it's a southern thing. And she was rubbing his back and she was like, 'Where are y'all from?' like going around to each one and he's like, (southern twang) 'I'm from England.' And she's like, 'You don't sound like you're from England.' And he's like, 'Naw I really am.' So a lot of people who don't know him on set don't believe him.
But you see a lot of Brit transition with that southern accent quite well.
Andrew: I think that is, I think there are a lot of similarities in sound; I think it's easier than an east coast or a west coast.