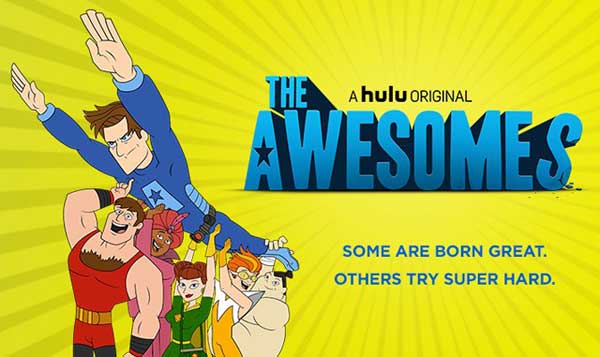 Comic-Con: The Awesomes is back for season three on Hulu with more voices of famous friends, and a musical episode!  I had a chance to chat with the Hulu animated series' cast and creators, including co-creator and star Seth Meyers, co-creator Mike Shoemaker, and stars Ike Barinholtz, and Paula Pell.
One of the episodes to really look forward to this season is their upcoming musical based episodes. Anything they can tell us about that?
"Do you like Les Miserables?" asked Ike Barinholtz who plays Muscleman.
"In Season 2 most of the world got beaten up, specifically France, so now Perfect Man and Impressario go there to help rebuild it. In the process, Impressario accidentally steals a loaf of bread and this makes Perfect Man irate and leads to chases through the street s of Paris a la Jean Val Jean and Javier.  It's pretty much all musical," Mike explains.
Yes, this does mean that everyone will be singing in the episode.
Paula Pell, who plays Gadget Girl, is a trained singer so how did she feel about this process?
"I sang, but I had some vocal problems at the time, but I think it turned out alright," she said. "Everyone in The Awesomes cast, we are all Broadway nerds and love to go to Broadway, and love to sing it backstage."
Mike was also quick to point out the cast has many great singers as well. "We can all kind of sing, Taran [Killam] is a great singer, Rashida Jones is like a professional singer, Seth…is a terrible singer."
Ike was a bit more direct: "I'm worse than Seth." he says with a laugh. "But I feel like the one show that people, even Shoemaker, people who don't like theatre, they like Les Mis."
But the great voices this season are not just the singing ones.  Announcements of famous guests for Season 3 include Chris Kattan, Fred Armisen, and Andy Samberg, among others means that this upcoming season is going to be filled with top notch talent.  But is there anyone that they still have on their dream list?
"Our favorite thing about writing is, everyone who is a voice actor on the show we really wanted to play the part. We have been really lucky so far, because this has been a dream list that we've been able to fill out.  It would be fun to get (Kristen) Wiig, but we got Fred (Armisen) this year, and (Andy) Samberg showed up, " Seth  says.  "The dream for me is if we could do one table read with everyone actually there. So hopefully we'll do that sometime."
Catch the new season of The Awesomes September 8th on HULU.