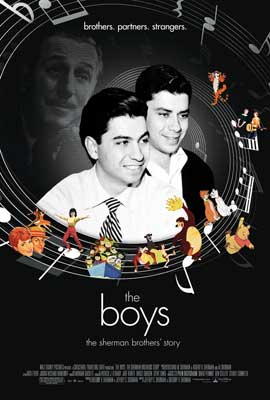 Last month, an exclusive screening of The Boys: The Sherman Brother's Story took place at the Los Angeles Jewish Film Festival. Sofia Gian caught up with filmmaker Jeff Sherman, to discuss how he directed and produced a documentary so close to home.
You may know their music but may not know their names. Richard and Robert Sherman were the songwriting team responsible for Disney music from classic films like Mary Poppins, Winnie the Pooh, Chitty Chitty Bang Bang and The Jungle Book.
The Boys: The Sherman Brothers Story, is a feature-length documentary, conceived, produced and directed by two of the songwriters' sons, Jeff Sherman and Greg Sherman. This documentary takes audience behind the Hollywood music scene and offers a rare glimpse of the creative process behind these two talented men.  It also explores a deep rift that ultimately ceased the collaboration between this Academy Award-winning songwriting duo.
First let's get one thing straight – who is related to who?
I directed and wrote The Boys: The Sherman Brothers' Story with my cousin Greg Sherman. My father is Robert B. Sherman and Greg's father is Richard M. Sherman.
How did you decide to make a film about your father and uncle? Where did this idea come from?
I must have been 7 or 8 years old when something happened in the family, I don't really understand what caused a rift between my father and uncle but it was around that time that our families stopped speaking with each other.
In 2002, over 30 years later, I attended the London stage opening of Chitty Chitty Bang Bang. I didn't even see my uncle and his family at the stage opening because our families were seated apart, we were seated to the right balcony, and his family was seated on the left side of the balcony.  It occurred to me how weird this was.
Later that night I attended after party at a club called "In and Out" which was a party thrown by the Broccoli's (famous for the Bond films). I saw my cousin Greg there. It was the first time I had seen him since I was a kid.  So I walked right up to him and said, "What happened to our families?"
Here we were in our 40s and I wanted to get to the bottom of what caused between the families and so did he.  We ended up talking about how our fathers could go from collaborating on some amazing projects to hardly speaking at all. We knew we didn't have the whole story.
So when did you decide that you had to make this documentary?
Someone approached my cousin Greg and said that they were interested in doing scripted bio-pic on the Sherman Brothers.  He then called me up and said "Would you like to do this with me, because I can't do it alone."  Although that project didn't pan out, we continued to explore the subject. We discovered that no one really connected the Sherman Brothers to their music, but everyone knew their songs.
How did it go over when The Sherman Brothers (your father and uncle) found out that their sons were making a documentary about them?
At first they were very candid and very open but when we decided to focus on the rift it got difficult. The first time we put my dad on camera, he pulled me aside and said "Jeff I just want you to know that this is a very slippery slope, don't make this something that will embarrass us and I'm probably speaking for my brother too." So both Greg and I were very careful not to make it embarrassing.
With over 60 years to cover in their story what did you do first?
When I realized that Mary Poppins was opening in Broadway in 2006, I suggested that we each take a camera crew and follow our fathers until they met on the blue carpet before the show. (Red carpet is typical for openings – The Mary Poppins 'red carpet' was blue).   They hadn't seen each other in three years but when the reunion on the blue carpet happened, it did not go as planned.
After this event, we started interviewing people that were close to the story like Cameron Mackintosh, and Tom Schumacher. Then we spoke with Barbara Broccoli, Roy Disney and finally we interviewed our fathers. With this footage we put together a 25-minute presentation and showed it to Roy Disney and Tom Schumacher, and then the head of the studio, Dick Cook.  Afterwards, they invited Greg and I to the studio to show it to the studio heads. So that was the beginning.  Then we spent the next three years putting together a feature length documentary with over 88 interviews which were conducted all over the world.
How did working with Walt Disney impact the Sherman Brothers?
Walt Disney found these two guys that were struggling songwriters.  Both my dad and my uncle had day jobs before going to work for Disney.  It all began when they wrote a song called "Tall Paul" that Annette Funicello picked up. Then they started writing more songs for Annette.  Disney wanted to make her a movie star and he had also heard the music that the Sherman Brothers had created for her.  Disney offered to make them the first songwriters on staff for Disney.  He believed in them and became almost like a father figure for them. Walt helped teach them their craft. In fact every Friday afternoon they would go to his office and play music for him. So when he passed away, they knew it was the end of an era.
What was the biggest surprise you had when making the documentary about the Sherman Brothers?
There were a few. In researching the story and I created a chronology of their lives. I discovered that their music reflected all the major events in their lives, from their childhood to today.  Mother Earth and Father Time was written about their parents growing old and dying. Lets Get Together was written about cementing their partnership with the studio. Their music reflects what was going on at that time.
Did your father ever write anything about you?
When my father and uncle were scoring Tom Sawyer, I would go every day after school to 20th Century Fox to listen to them record.  One day I went in and there was Charley Pride, a great country singer, singing the theme song from Tom Sawyer called River Song. It's about a boy growing into a man. At the end of Charley's performance my dad turned to me and said, "I wrote that one for you."  I'll never forget that.
Did you ever find out what the rift was about?
Two guys with very different personalities, that's it. There is something about those differences that make for bad relationships but great collaboration.  They are able to come at things from many different angles.
How did your father and uncle react when they watched the final film?
It was very emotional for both of them. They have accepted that their relationship only existed in the office, so seeing it on screen made it difficult.  Greg and I hoped that by making the film it would help them grow closer. Unfortunately, I can't really say that it did. They are grown men set in their ways.
What is it that you want people to take from the film?
I want people to know how great the Sherman Brothers were at composing. I want them to know the family history.  People always ask my dad what he wants others to take from the film and he always says, "The work speaks for itself".  If people see the film, they will get from it what they need.

Sofia Gian does one thing each day to reach her goal of becoming a leading lady. In this process she interviews industry professionals and learns tricks and tips which actors can use to move their careers forward. Follow her daily quest on www.ActressConfessions.com