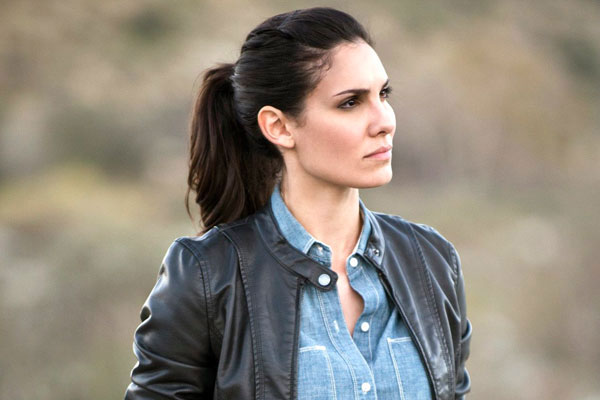 NCIS: Los Angeles star Daniela Ruah is going to have a busy couple of months. She's pregnant with her second child and her character, Kensi, is going to go through some major changes. She sat down for an interview at Comic-Con this summer to talk about how the show shot around her pregnancy and the "drastic" change that'll happen to the NCIS team.
What's in store for your character this season?
Daniela Ruah: A lot is in store for this character. My pregnancy has brought on reasons to hide the pregnancy which has inspired a very particular story line for the season, at least the first half, but that's all I know. Something very drastic happens to the whole team and Kensi's affected by that a little more and that poses obstacles and a big long trajectory of for Kensi and Deeks (series star, Eric Christian Olsen). And also there is a proposal.
You guys spent eight days filming extra scenes with you and Eric Christian Olsen, was that to cover for maternity leave?
Daniella Ruah: Basically, yeah. When you guys watch the show on TV you won't notice my absence even though I'll be gone for a number of week's pre-and post-baby. So, this whole first eight days of shooting has been spent doing all of my scenes from episode three to episode 10 or nine or whatever it is, so it's that whole arc. And it's not just Deeks, there a few other characters that we know and love who are involved in that too. But they basically had to get all of my stuff out of the way and in post-production they'll edit it all together as if I'm not gone, which is really cool and I'm happy about that. I'm very happy to see how it's gonna work out.
But it's interesting to shoot your storyline in chronological order because we never do that. One day we're at this location and you might be shooting something at the beginning of the episode and then the next day you're in the bullpen doing something different, so to do it this way is really cool. We did it as well for my first pregnancy and it worked.
Is it difficult to do that because you're so used to a certain way of shooting?
Daniela Ruah: No, it's actually easier because what Kensi and Deeks have to go through is not an easy thing to play and so to not have to break that up in different episodes makes it easier. It's much easier to play it every single day because you're in the mindset, you're there and it's easier to keep your mind and energy where it's supposed to be because it's all done in a row versus breaking up until were laughing and we're bantering and all the sudden we need to be in this very deep tragic place.
How is it filming while pregnant?
Daniela Ruah: Fine. I feel like people are more cautious with me than I am. They're like, "No, we'll get you that water." And I'm like, "I'm fully capable of grabbing my own water but I appreciate it from the bottom of my heart. I got this." I don't know. I'm not an actor that likes to have people at your ever beck and call unless I can't leave the set because of whatever. At most, I'll be like, "Can I get a PB&J because I'm really hungry right now and I can't leave the set."
So, I think I might be asking for more snacks than usual but I think people are being more careful with me that I'm being careful with me.
I try and stay fit and active and healthy for as long as I can. I don't like to be sedentary and sitting down, like, "Oh, I'm pregnant. I can't do anything." No, no, no, no I'm fine.
How are you keeping healthy?
Daniela Ruah: I work out as much is my schedule permits me to. Obviously, have a toddler son I'm chasing him around and he's pretty active but we have a really healthy household to be honest with you, not to say I don't have snacks. I love chocolate, so I'm not extreme or anything like that. We try to eat as many greens as possible and we work out as much as we can. We host a work out at our house every Sunday that my husband kind of leads. We just went on Craigslist and bought a bunch of old gym machines and in our backyard we've made ourselves a little makeshift gym and we can have up to 10 friends and family members there. A lot of us have toddlers and are pregnant, so it's really fun and it's a great bonding experience.
NCIS: Los Angeles airs on Sundays on CBS!