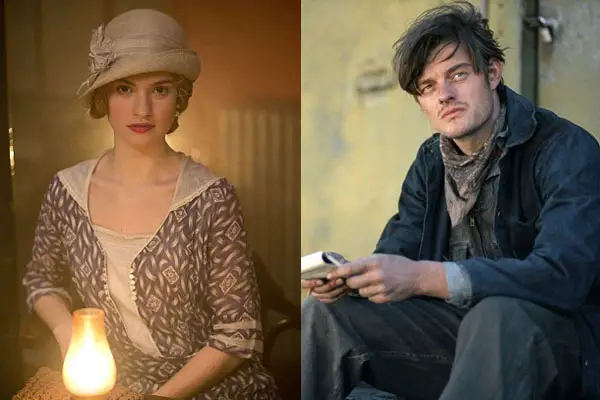 You take a classic novel, drop some evil into the mix and what do you get? Pride and Prejudice and Zombies!
Lily James and Sam Riley star as Elizabeth Bennet and Mr. Darcy in this reimagining of Jane Austen's tale of the relationships between lovers from different social classes in 19th century England. Directed by Burr Steers, Elizabeth Bennett is a master of martial arts and weaponry and Mr. Darcy is a fierce zombie killer, yet the epitome of upper-class prejudice. As the zombie outbreak intensifies, everyone (including Matt Smith, Jack Huston, Bella Heathcote and Douglas Booth) must swallow their pride and join forces on the blood-soaked battlefield in order to conquer the undead once and for all.
Both James and Riley were at Comic-Con to talk about killing zombies, training to fight and how costumes help them get into character.
Is it hard to fight zombies in clothes of the era?
Lily James: It's hard to do anything in a corset. But the costume designer was really cleaver, he added some leather and he made the corsets so there was some freedom of movement.
Do you feel a little more prepared in case a zombie outbreak actually happens?
Sam Riley: Just stick by Lily and you'll be fine.
Do you have a weapon of choice?
Lily James: A sword. Sword and foot in the face.
Sam Riley: A samurai sword. But I think I'd rather have a machine gun but they didn't exist.
How does one prepare for a zombie apocalypse in that era?
Sam Riley: Well, we've all been trained. Instead of University or finishing school or whatever, people were sent to train in Japan. Darcy was trained there. But the Bennet sisters, they're a little bit lower class, there were studied in China.
Did you guys actually train?
Lily James: Yeah, we did months of martial arts and sword fighting and learning how to fire muskets. Horse riding. It was really full-on. You had to believe that these characters could actually kill zombies or else the whole story would collapse on itself.
How difficult or fun was it to lean these new skills?
Lily James: Very fun and very difficult.
Sam Riley: That's one of the cool things about this job is that you get to learn all sorts of new things. But you also have to learn them really quickly. So, you're sitting on a horse on Monday for the first time and them galloping on Friday. So, it's intense.
The original book is known for its witty dialogue and social observations. Would you say that it's true of this version?
Sam Riley: Very much so, yeah.
Lily James: Even existing in this apocalyptic world, there's still all the same concerns. Mrs. Bennet wants the daughters to get married and Liz doesn't want to get married.
Sam Riley: There's still all the snobbery of the time.
Lily James: They're just desperately trying to uphold all that and not be eaten by a zombie.
So, are these fast or slow zombies?
Sam Riley: It depends how fast or slow you were when you were a human. So, if you're an elderly zombie you can probably walk away from them but if they were young then they were quick.
Had you read the book before?
Lily James: Yeah. In England you read Pride and Prejudice in school. I think you read it before you can talk. It's engrained in us.
What about this book?
Sam Riley: I didn't actually. I asked my mom who the ultimate Mr. Darcy is and she said Colin [Firth]. So, I watched that because I wanted to know what it is about this guy that everybody adores. So, I sort of used him as a starting point.
Because he's honorable and there aren't many men that are. And he does things for the right reasons but he's a truly honest and decent man.
Lily James: Liz and Darcy's love story is really still the same. Like in the book, you get the sense that these two are slightly outside of everyone else and somehow they're destined for one another. In this, you really feel that as well. That they're real fighters. They're both combating the undead in a way that is different than everyone else.
How important is your costume to be able to get into your character?
Sam Riley: Very important. I mean, anything that helps you look in the mirror in the morning and see less of yourself and more of somebody else always helps you get into character. It makes you stand differently, it makes you walk differently.
I've worked with this costume guy, this is the third time, Julian Day. And every time I've felt the guy I'm gonna be playing as soon as I put the clothes on.
Pride and Prejudice and Zombies is in theaters February 5th, 2016