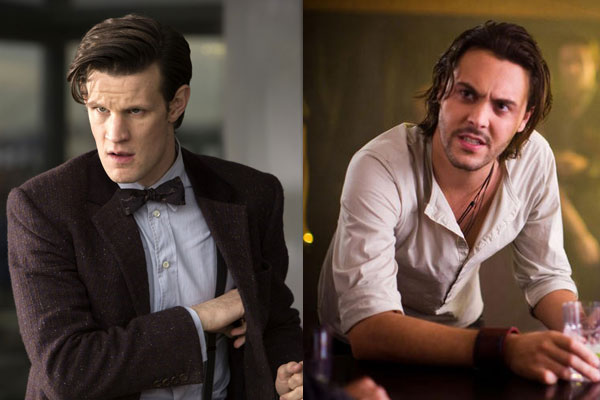 What happens when you take a classic novel and add a dash of the apocalypse? You get Pride and Prejudice and Zombies!
Matt Smith and Jack Huston star as Mr. Collins and Mr. Wickham in the film about a zombie outbreak in this reimagining of Jane Austen's tale of the relationships between lovers from different social classes in 19th century England. Directed by Burr Steers, Elizabeth Bennett (Lily James) is a master of martial arts and weaponry and Mr. Darcy (Sam Riley) is a fierce zombie killer, yet the epitome of upper-class prejudice. As the zombie outbreak intensifies, everyone (including Bella Heathcote and Douglas Booth) must swallow their pride and join forces on the blood-soaked battlefield in order to conquer the undead once and for all.
Both Smith and Huston were at Comic-Con to talk about killing zombies, their characters and how Huston should be the next James Bond.
What attracted you to this project?
Jack Huston: Initially just the title. And you think that it couldn't possibly work and then you read it and you're surprised at how well it does work. Without sacrificing anything of the original novel. You know, keeping very true to it.
And then Burr, came and had a sit down and told me who was getting involved in the movie and it was just everything sort of came in line. It was brilliant.
Matt Smith: Yeah, pretty similar actually. I sat down with Burr and I liked him and I liked a couple of his older movies. But also a lot of the cast that was involved I knew and was excited to work with. I thought, "Pride and Prejudice. And Zombies? That sounds like a movie that I might watch."
Mr. Collins is a clergyman. Is he equipped to fight zombies?
Matt Smith: Not very well, I'm afraid. Cowardly Collins. Terrible at proposing. Terrible at fighting zombies. Terrible at pretty much everything. But you need Collins. Collins, you need him so much in this movie because we were all not playing the comedy of the zombies. So, you need that element in which you can be funny. And Collins is the one who lets you realize that there is a funny element to it.
Does Mr. Wickham try to use his famous charm on the zombies or just the ladies?
Jack Huston: I think it's for everybody. I think the zombies are easier to sweet talk.
Matt Smith: That was part of my problem. My character is meant not to really like Wickham. But Jack plays him as such a like… you'd be a good James Bond, you know?
Jack Huston: Oh, thank you.
Matt Smith: There's a real sense of James Bond. That sense of shaken, not stirred. I was like, "Oh, I rather like him."
Pride and Prejudice and Zombies is in theaters February 5th, 2016