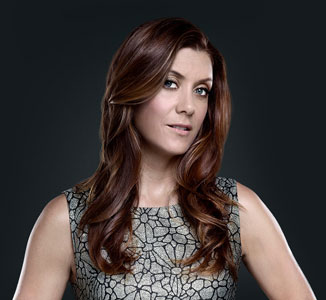 Kate Walsh has been familiar to TV audiences for years with her role as Dr. Addison Montgomery on both Grey's Anatomy and Private Practice. She's worked with showrunner Shonda Rhimes long enough to understand her rhythms and word preferences. When she stepped into Neil LaBute's world for DIRECTV's new 10-episode series Full Circle, she had a new language to learn.
Daily Actor interviewed Walsh about how LaBute's script felt to her.
"Neil's writing is so specific and it's so good that you want to really respect it verbatim…for me, it was just memorizing, memorizing, memorizing. I grabbed, you know, my boyfriend, his son, everybody that would sit down and go over lines with me," said the former ABC star.
This was in contrast to the character that she knew so well on Rhimes' two shows. She shared the big differences on working on the DIRECTV show.
Walsh said, "In Private Practice, I was so used to playing that character and knew the rhythms of it that I could just literally look at it and have it memorized right before I went on. So it was just… it was really challenging but fantastic."
On Full Circle, the TV star's character Trisha celebrates her wedding anniversary with her husband Trent (Billy Campbell). Their evening is interrupted by the restaurant's pianist Peter (Cheyenne Jackson) who continues to flirt with her throughout the evening.
With her storyline, Walsh emphasized the importance of solid writing because it bring her acting up to a higher level.
"Well, I've always had kind of pretty great taste or high expectations or demands for writing and I believe it all starts, clearly, with the writing and you can't act your way out of kind of bad writing, but really it starts there and that's what intrigues me. It's character and story," she explained.
After spending nine seasons as Addison she knew she wanted something different than a huge television season commitment. She was ready for a little more flexibility in her career.
"After having been on Grey's and Private Practice and doing 22 and 24 episodes a year where you're working nine and 10 months a year on one character, I'd rather just keep it… keep it to shorter commitments," said Walsh. "And there's so much happening now. I mean, who knew DIRECTV was gonna have content and here we are? So there's lots of opportunities."
In addition to directing a few web commercials, the actress is planning on keeping most of her work in front of the camera.
She revealed the characters that appeal to her.
The Private Practice lead said, "I've always been obsessed with the lawyer archetype or the judge archetype or these characters that are really, really good and honorable and proficient and then bad underneath. So we'll see. We'll see what happens."
Kate Walsh's episodes of Full Circle air on Wednesday, Oct. 30 on DIRECTV.