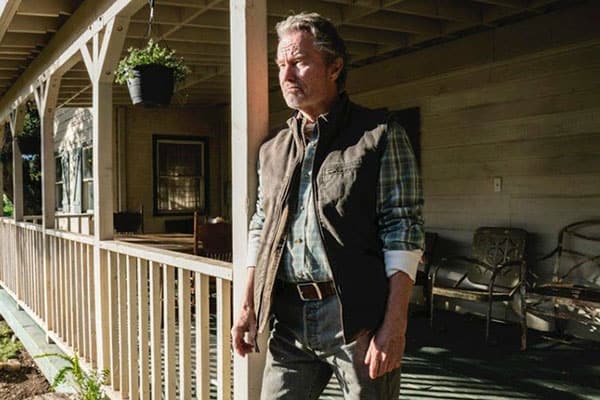 "We make these stories, we play act, we pretend. But a lot of these stories we're playing or we're doing, people identify with us. We're real to them." – John Savage
The fantastic John Savage has appeared in over 200 films, countless televisions shows and starred in the original Broadway production of David Mamet's American Buffalo. To say that he's not a brilliant actor, check him out in 1978's Deer Hunter opposite Robert De Niro, Christopher Walken and John Cazale.
Savage is currently appearing in a 3-episode arc on the hit CBS show, SEAL Team, playing the father of series star A.J. Buckley's character Sonny Quinn.
In this interview, he chats about the show, how he's dealing with the state of our world and more!
What are you doing to pass the time with everything that's going on?
John Savage: I got a great lady and a lot of people in my life. We do a little communicating for programs that I used to get together with directly with people and now we've got computer stuff going on. I haven't caught up with all of the leads that are on Zoom for links and things with the programs of recovery for veterans and also for other health programs for mental health and addictions. And a lot of it just good for people's state of mind just to talk to people maybe having a little trouble. We have to accept that this is actually real and it's changing everybody's life. I don't care if you're rich or poor, you're being affected by this. It's a human disease, it doesn't judge who it's going to hit next.
So, we got to pray for this will be dealt with and people are sacrificing their lives for us right now, which is why I got a lot out of being able to be a part of that great show, SEAL Team. Which is for me bringing closer to people a lot of what's been going on for a long time with men and women in the military. With women too more than people realize. And the fact that my program shows a guy coming home, A.J. Buckley's Sonny Quinn character, being his dad, I see… I've been through this experience with my own son, but also with other families who have people in the service who come home different than they left. Well you say the warrior or wounded warrior, which Gary, that was for me, that was such an example what he did as an actor.
We make these stories, we play act, we pretend. But a lot of these stories we're playing or we're doing, people identify with us. We're real to them. They watch us to watch us go through things that they don't want to deal with or they can't understand. Emotional trials between a father and son, which is coming up with me and my son in this TV series. All these vets, they're so young. And from dealing with all the guys that help them out maybe in a recovery program from Vietnam service. I grew up in post Second World War, men having to help guys coming back from Korea and a grandpa who served in France in Verdun and watched a thousand guys die from gas. And why didn't he die? He said, "Well because I smoked and I drank."
And he raised all his kids by himself and then decided he wanted to die by drinking and went to the Bowery with my dad and mom brought him to live with us because he just didn't want to deal with life anymore and gave him a little hope. They say he went through nightmares every night. My dad was in Marine Corps at Guadalcanal and he had to deal with… When I did this show, I felt so great because of the relationships that are shown between the men and women that are serving and also that one instance of having to come home, what you see in this next episode. So I can't describe it to you because in real life, we have this relationship with our kids and for me, it hit me so hard when A. J. Buckley comes home.
It's a really good show and it feels like it's about this group of people, this family unit who sticks together when times get tough and I feel like it's an of the moment show right now.
John Savage: It's of the moment and we need it. Right now there are people dying so other people can live and that's what's going on around us all the time. We need this courage to support that, to accept it, and where is our position with it. It's tough to accept the position of a son or something that comes home and is dealing with demons that really can't be explained and he's losing it because of it. And he wants to do something and all these people around them are stupid because they just don't see things that he sees and has been through. And it's hard. I love when tough guys get all riled up like, "Ah, that's a lot of BS. Ah man, those guys, what do they know?" Say, "They don't know anything. These liberals, I don't know what I'm going to do about them. Jesus, Mary and Joseph." Until something gets to them. And you'll see a grown man break down into tears. That's what people are. We're human beings. We're not human doers, we don't always know what to do. Just be, just be. And sometimes watch a good TV show like SEAL Team.
You're a master at this. Way to turn it around back to the show.
John Savage: [laughs] If you get a chance to see The Last Full Measure, a film I was really grateful for which for me, it really brought me to do this great part on this great TV series. But The Last Full Measure directed by Todd Robinson brought a movie to a story that was true in Vietnam and the people going to it who all took part in making this film possible to show how many people were affected for 50 years after this. The resolution that was finally made by a government official who decided to see and accept a request by one soldier who visited an office for 30 years to try to get somebody acknowledge what happened in Vietnam to 600 men. And one man, a kid, 21 years old with an air force chopper that showed up by accident. And this one kid, what he did, he lost his life, but he gave it for hundreds of people. And this is what's going on now is people dying to save other people's lives. We got to respect this. So, watch these men and women in SEAL Team, see how it's done.
SEAL Team airs on Wednesdays at 9pm on CBS.