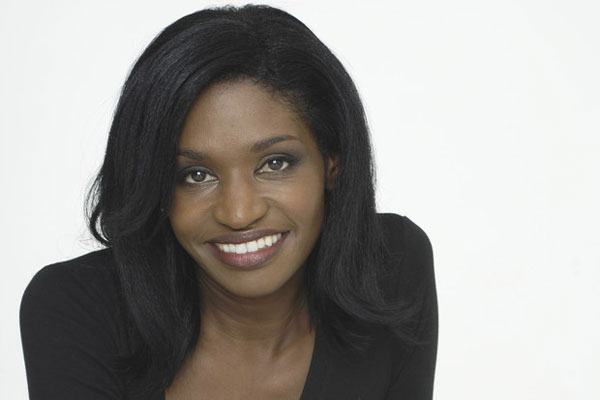 Jenny Jules has been working steadily in some of the UK's most prominent theatres including the Donmar Warehouse and National Theatre, now she's making her Broadway debut in Arthur Miller's The Crucible. But, there's no need for congratulations just yet she told me. Still in previews when we talked, there is so much going on with rehearsals and fine tuning, that "congratulations doesn't happen until you open, I suppose. For me anyway."
Directed by Ivo van Hove (who's last Broadway show, A View from the Bridge, was excellent) and also starring Saorise Ronan, Ben Whishaw, Sophie Okonedo and Ciaran Hinds, Jules plays Tituba, a slave woman who was the first to be accused of practicing witchcraft during the Salem witch trials.
Jules and I talk about how she got cast in The Crucible, working with the cast, going to rehearsals already knowing the lines and the differences between American and UK audiences.
For tickets and more information: The Crucible on Broadway
Congrats on your Broadway debut!
Jenny Jules: Thank you very much. It's very exciting.
Was that always one of the big goals for you? To do a show on Broadway?
Jenny Jules: Yeah, it always was a big dream. I think any actor who works in the theater and any actor who kind of has a passion for it, I think it is one of their dreams to be on Broadway. Absolutely
I know you're still in previews but when you set out on stage for that very first preview, we're you like, "Boom, I did it!"
Jenny Jules: No [laughs]. I wish it were that easy. No, because we're still working. We're still in rehearsal during the day and we're still in previews for another two weeks. So we're still changing. There's no, "Wow!" There was a sense of, "Amazing!" But it was also with trepidation, how is it going to be received?
The first preview for me is a really special performance because nobody else has seen it. And in comes the character that's been missing from your production the whole time, which is the audience. So they change your responses, they change how you react. I'm kind of full of, "What's gonna happen? Are they gonna hear me?" You know I mean? There's so much going on that congratulations doesn't happen until you open, I suppose. For me anyway.
So during the day are you just doing minor blocking changes?
Jenny Jules: Yeah, there's minor blocking changes. There some big changes too, but it's mainly minor blocking changes. And then there's all the technical stuff that is changing as well, lights and sounds. It's a big monster this play. And it's a lot. There's a lot of hands on deck in a sense.
I would think that there's so much going on where you guys are rehearsing during the day and doing the show at night, you're exhausted but you must be energized the same time.
Jenny Jules: Yeah, you really, really exhaust your adrenal glands. [laughs]Because you want everything to be perfect for opening, for when the press see it. You want to represent the show, you want it to be the best thing that they see, you want to be the in the best shape and then you want the audiences who start coming after that to just go, "Yeah, that's right, I agree with that notice. Yeah, it is a fantastic show."
So, you're buzzing you know? You're working. I suspect you have to eat well and you're trying get a little bit of exercise, which is a thing that I'm being really lazy about [laughs]because we get back late and sometimes we have to go back in really early. But yes, it's really exhausting.
I've been doing a lot of musicals lately and when I'm in a show and in rehearsal, I'm always worried about my voice. I don't want to drink too much. I don't want to do anything crazy or go to a bar and watch a game and yell or scream or anything. Are you as worried about your voice as I am?
Jenny Jules: I think you're more worried and you have every right to be because you have to sing. You need all of your range. Doing a play, yes, I'm very worried about my voice.
And it depends on the way I'm pitching my voice. It's like, am I using my high register which I always have to take care of because my voice is generally quite deep naturally. Or am I using my lower register?
And I don't drink. I try not to drink when I'm working because alcohol and my voice, they don't love each other. It dries out my vocal cords, I've got to stay away from it.
I take supplements. I take wellness formula and oregano oil and I try to take that the whole time just to try and keep me steady and to keep my immune system up.
I've heard of oregano oil. I was in the show last year and the lead actress, she was taking oregano oil and she was swearing by it.
Jenny Jules: Yeah, I swear by it. Especially if you're using the subway, you know what I mean? People walking past you coughing. I always want to grab them and say, "Do you know what you're spreading?" [laughs]
But yeah, I swear by it, I do. One has to take it regularly with the wellness formula together. Vitamin C, I drink orange juice. And I have ginger ale instead of vodka tonic.
You and I are the same, alcohol completely dries out my voice. I have to down a glass of water. If I want to have a beer after a show. It's very tragic.
Jenny Jules: Yeah, it is for us isn't it? [laughs]I love beer. I love beer and prosecco, they are my favorite. And I'm like, "No, I can't have you!"
Can you tell me about your character in the show?
Jenny Jules: I play a character called, Tituba, who was the slave of the Reverend of Salem. His name is Samuel Parris. Very sadly, she is accused of being a witch because the daughter of Reverend Parris, she goes into some kind of weird… I don't know what to call it actually. It's not quite a coma, it's not a sick but she is a little bit comatose. She's not responding, she's not eating, she's not doing anything.
Reverend Parris captures some of the girls in the village and Tituba has made a fire, so they're all dancing and singing and she is doing some incantations or what appears to be incantations. And the Reverend catches these girls in the woods and jumps out and he startles them. And because their characters are not allowed to sing and dance, there's a lot of things are not allowed to do, and these girls are so terrified that we think that Betty Parris is so scared and frightened out of her wits that she has fainted and she's terrified because she think something bad is gonna happen.
Her cousin Abigail, who is 17, she's a little minx really and she's kind of starting to use her power. She has power in this play and she starts to use it in the first scene with her uncle. It's revealed that they were dancing and that the devil was summoned and that all of this terrible stuff has been happening. Satan is among us, there's witchcraft going on. And so Abigail very cleverly blames Tituba and says that she was conjuring spirits with one of the other girls.
It escalates really brilliantly. Arthur Miller is such a genius because it can really be explained in the first five minutes. But he stretches it out and stretches it out and things are revealed and things are spoken and then Tituba is accused of bewitching this child. She's accused and then she says, "Yes, I did speak to the devil." And she admits that she has, she's so scared that she think she's gonna be hung and off we go into the trials and her accusing other people.
How is it working with the cast? Because you've got one heck of a cast.
Jenny Jules: Oh yeah, they're all awful [laughs]They're fantastic. They're all a really gorgeous theater family. We get on, we're in support of each other. There are some immense people on the stage and it's just wonderful.
Ciaran Hinds is terrific.
Jenny Jules: He has so much command. He is in charge, he just walks on that stage and he has respect. He opens his mouth, and you're like, "Oh, that's the King. He's in charge!" He's so powerful, he's an incredible man.
And then there's Saoirse Ronan. What a natural. What an incredible performer. She's just like, "Come on, give it to me." She's ready. It's so inspiring.
There's Sophie, who is a revelation. Ben Whishaw. What can I say? What a brilliant actor. Jim Norton. It's just incredible bunch of people. Bill Camp, Jason Butler Harner, Brenda Wehle, Tina Benko. Just all of these incredible actors. We're having a really good time.
What's really lovely is that everybody can look into everybody else's eyes and feel like they're in a safe place and feel like they're in a strong place, you know? Everyone is bringing their 'A game.' It's a difficult show to do because it's so harrowing and so sad but we're all into each other and it's all fabulous.
How did you get the part?
Jenny Jules: I was cast by Heidi Griffiths and Ivo van Hove. I had a meeting. I had one audition that lasted five minutes and that I had another audition and that lasted four minutes and I was called five hours later.
Wow. That's nice.
Jenny Jules: Isn't it? [laughs]. The first one was Friday the second was Wednesday and Wednesday evening I found I got cast.
I was very excited to work with Ivo and I worked with Heidi before at The Public Theatre. I did Father Comes Home from the Wars Parts 1, 2, and 3, which is an incredible piece. So, yeah, I was very excited and Broadway come on?
When you get a part, how prepared are you on the first day of rehearsal?
Jenny Jules: Well on this one in particular, we had to know our lines and we had to be very prepared. It's kind of been directed like a classical music piece. So basically there are movements, Ivo wanted to have three and he directed them as kind of whole complete parts that's all joined up.
So, that was very interesting and that was very brilliant of him because it's such a big play and there's so many characters and there's so much to invest in that he needed to have a kind of clear understanding and clear way of how he was gonna do it. And if we were on the book trying to find our lines, it would have impeded him. So, we knew what we were saying by the time we arrived and we were ready.
I personally like to kind of nearly, not quite ready, you know what I mean? I can listen to the other actor so I can respond in the moment to what they're saying. I do know actors who love to learn it before they go in and that's the way they work. It's all up for grabs and it changes for every director. We have to be flexible because it keeps us on our toes, right?
Is there any difference between working in theater here and in the UK?
Jenny Jules: Yeah, there is a difference. It depends on where you're working. If you're working at the Royal Shakespeare, the RSC, or the National Theater or something, if you're working in a big subsidized theater and you're doing a classical piece, you have a very long time to rehearse, which is very luxurious. You can explore things, you can improvise around your character's lives. You can be really ready.
But we have longer rehearsal in the UK and shorter in preview. I find in America, you have shorter in rehearsal and longer in preview. Personally, I think that's about commerce. I think it's about getting buns in seats, getting income coming in. I'm cynical but I actually think that it's about that.
Sometimes things aren't ready when they open for previews, you know? And I don't like people coming to my first previews and going, "Yeah, well, you know…. I didn't really…" I adore them, but really bugger off. You come when we're open, when we're telling you are ready. [laughs]
And in the UK it's less likely for you to have things that you're gonna really change, like big massive changes in previews because you've had the time and rehearsal to do it, to explore it, to ask those questions of the piece. So I think that's what the differences are.
And then you've got the differences in the audience. I do find American audiences more generous, more generous than UK audiences in general.
Really?
Jenny Jules: Yeah, if they like what they see, they really let you know. They really appreciate you. I think they're little bit reticent sometimes in the UK. And sometimes in the UK, they'll be silent, and I'm like, "They're dead. They're all dead. They've all died out there!"
We've killed them!
Jenny Jules: Yeah, we've bored them to death. But then at the end, there's thunderous applause. And I'm like, just make a sound. Laugh when it was funny! That would've just made us know that you're with us. I find that more in the UK than America
I love the UK audiences. I've been working there my whole life but that's just the things I'm noticing.
What was your worst audition ever?
Jenny Jules: Ha! My worst audition ever was for the RSC. It was so long ago I can't remember what the play was for but I had really short hair and I was wearing a wig, a long brown Ronette wig. I won't name the director because it's not important, but he said, "Have you got your pieces?" I said, "Yes." So I did my pieces and I did my Shakespeare and he said, "Go to the back of the room." And I said, "It's Friday night and I'm a bit hot, do you mind if I take off my wig?" He's like, "Go on." I took my wig off and I have like a buzz cut. I take this long brown wig off and then I say, "I'm just gonna take off my cardigan, I'm a bit warm."
So, I took my cardigan off and he says, "Is there anything else you'd like to take off?" I said, "Yes, I'm just going to unscrew my leg." Your laughing, Lance, but he didn't laugh. There was eight people in the room, one of them, the casting director, her mouth was agape when I took the wig off as I looked so different. And 7 ½ minutes later after the audition, when I left the room, her mouth was still open. She hadn't said a word, she hadn't closed her mouth. She just sat there looking at me in shock and didn't close her mouth until I left the room. I didn't get that job, they so hated me.
And in the middle of the audition, the director was very rude as well . He said something that I thought was actually quite racist. I was like, I don't want to work with you people because you have no sense of humor. No, I don't want to be in a room with you for two years. Relax. That was the thing as well nobody was relaxed, they're were all too serious.