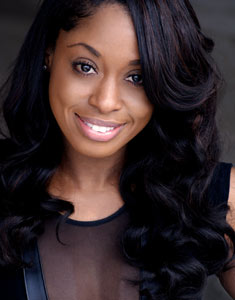 The Tony Winning musical Memphis is currently on tour across America, and the star of the show, Felicia Boswell is loving every minute of it.
Felicia plays Felicia Farrell, a 1950's club singer who is ready for her big break. When she meets a white DJ, the two begin a forbidden relationship and partner to bring rock-n-roll, and Felicia, to the world. 
Memphis won four Tony Awards in 2010 – including Best Musical – and features a Tony-winning book by Joe DiPietro and a Tony-winning original score with music  by David Bryan.
Felicia, who has had absolutely no training acting or singing-wise, is carving out a great career for herself. Besides landing a job cover for original Memphis star Montego Glover, she did the National tour of Dreamgirls and was also the standby for Aida in Aida on Broadway.
I talked to Felicia as she was just finishing up her Las Vegas shows and on her way to San Diego for a week-long run. We talked about life on the road, auditioning for Memphis director (and La Jolla Playhouse Artistic Director) Christopher Ashley and her advice to actors.
Memphis is currently playing in San Diego. Next stops are Los Angeles (July 31st-August 12th), Portland (September 11th-16th) and Seattle (September 18th-October 7th). For more tour dates, click here.
When did you start this tour?
Felicia Boswell:  We started the tour in October of last year.  We opened in Memphis.
Wow.  And how long are you scheduled to be in the show?
Felicia Boswell:  Well, the principles were signed for a year and then we had the option to renew or not. 
When you're on the road, how do you spend your days off? You're in Vegas right now.  Do you go site seeing?
Felicia Boswell:  I am in my room.  What other people do is what other people do.  I am very focused on my work and I always feel like when I'm in places like this, I'll have an opportunity at some point to come back and vacation, you know?  No, I've never been here and I was really excited about coming and it's beautiful and exciting and there is a casino in the lobby of my hotel, which is overwhelming but for Felicia Boswell, I am so focused on my work that everything else is secondary.  So no, I have no desire honestly.  I don't feel like I'm missing out on anything.  I just feel like I'll have the opportunity to come back through here as a tourist and vacation.
Traveling all around in the different climates – I've seen the show – how do you keep your voice in top shape? 
Felicia Boswell:  You know what? I try to take really good care of myself.  I don't drink, I don't smoke anything and I'm proud of that.  I try to rest as much as possible.  I try to stay hydrated.  I exercise.  I try to eat right.  I do suffer from horrible allergies, so travelling has not been my best friend when it comes to that.  Sometimes I find myself in climates that literally make me hoarse because it just takes my voice, but I've been very fortunate where I am a vocalist where I can sing around trouble spots.  So, I just try to take care of myself as best I know.
You've been with the show for a while now, how do you make it… not a job? Do you constantly find new things to play every night?
Felicia Boswell:  How do I make it not a job?  I love it!  How do I make it not a job?  I truly, truly love it and I can't – I don't know what else to tell you.  There's no method for me.  I've had no training in anything.  There's no secret process to how I approach it, it's just, I honestly and genuinely love what I do.
I mean, no, you don't find new things every night but every now and then, you know, the audience responds to something differently or an actor responds to something differently and so it changes the moment for you and those moments are so beautiful, but I really do love it.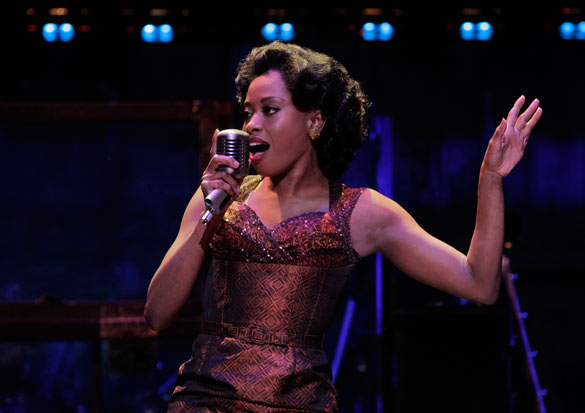 How did you get your start?  You just said you had no training at all… You're from Alabama, right
Felicia Boswell:  I am.  And my family was in a gospel group when I was a little girl and we used to sing on a Christian radio station every Sunday morning and that started when I was about five or six years old.  I've been in the business since that time.  I don't know my life not singing and dancing and acting and being a little ham.  You know?  I don't know my life without it and I don't want to know my life without it.  So, yeah, that's how I got started.
When did you know you were going to move to New York?
Felicia Boswell:  I always knew that I wanted too.  Of course once I got more into musical theater I understood how important it was to be in a place like New York, but of course making that jump and making that decision of, okay, I'm going to go.  It's a very scary thing.  I'm sure a lot of New York actors can tell you the same.  It's like making the decision to finally go, it's a very unnerving thing, but it was the best thing that I've ever done for my career honestly.
When you left and moved there, did you have an agent lined up or housing or did you just go there blind?
Felicia Boswell:  I actually had gotten an agent that had been wanting to work with me for over a year so that was a blessing.
That was awesome, yeah.
Felicia Boswell:  Yeah, because you know it's not very easy to get an agent so I really wanted to get there and sink my teeth into to some things and I wanted to have that support so it was nice to already have someone wanting to work with me and I'm still with that agency.
You were originally Montego Glover's understudy on the Broadway run?
Felicia Boswell:  Yes and no.  She had an understudy.  I was considered a vacation swing. This is someone who comes in at a very tight moment and relieves people or makes it a whole lot easier when they are short staffed, if that makes sense.  So she already had an understudy.  Her understudy was on vacation and she was taking something like a two, two in a half month leave, so I came in and auditioned for that particular moment in time and I booked that, but I ended up getting mixed into the Memphis family and that is how they basically found out about Felicia Boswell.  So I was only her understudy for a limited time, on and off, because I'm a vacation swing. And I had an opportunity to go on a lot of Felicia Farrell which was really nice because Montego was taking some time off as well, so it just worked out in my favor.
Did they have auditions for the touring show or did they just come up and say, hey, we love you, please do this?
Felicia Boswell:  [laughs] You know it's a very interesting story and a little irony that I am here in Las Vegas.  I had actually booked another show.  I wasn't even available to do the Memphis tour.  I had booked Nala in Lion King in Las Vegas.  I had already signed a contract and everything and I really wanted to be seen for Felicia Farrell. I was really passionate about the project, really passionate about the role but I wasn't available. And the director, Christopher Ashley is the artistic director at La Jolla Playhouse in San Diego was actually in town in New York to start auditions for the National Tour and he happened to stop by the Shubert Theater which is where Memphis is playing now on Broadway and I was at an understudy rehearsal.  He just happened to stop by and I was in an understudy rehearsal and he saw me and said, okay, I want to see that girl in an audition tomorrow.  I did not think that, you know, it was going to happen.  I wanted it to happen but I knew how complicated it would be.
So, you didn't even think about it.  You just went to the audition, know expectations or anything?
Felicia Boswell:  No, because I wasn't available.  I was not available.  I mean, to the point of signed contracts not available. And I knew that it was going to be complicated and my agent knew that it was going to be complicated, but you know, I went.  And the rest is history.
That's awesome. I assume you've seen Montego's work.  Does that influence you when you took on the role?
Felicia Boswell:  Not at all.  I mean, I think that she is an amazing artist and you know, what she's done with this role and how long she has been pouring into this role, it's inspiring. But Felicia Farrell represents a lot of African American women and I love that Christopher Ashley created these roles on what we bring to these characters and you know, he never said, you have to be like Montego or sing it like Montego.  I think that she's done a beautiful and amazing job with the role and I've always enjoyed watching her in the role, but I don't think about anything that she's done or brought to the role, because I really wanted to be able to create this for me and create it on me.
What is your advice to actors?
Felicia Boswell:  That's always an interesting one for me because I've had no training – I always say to little girls that I mean that are, you know, wanting to do this, I say everyone's journey's different and I have not had any training but I implore you to pour yourself into as much as you can to hone your gift, to hone your talent so that you can be the best that you want to be.
And what I would say to another fellow actor, a peer of mine, is don't stop dreaming and that you can have it if you believe it.  I really believe that.  That is the story of my life.  I dream it.  I think it.  And then it manifests right before my eyes and I have been very fortunate to play lots of roles that I absolutely love and I just implore people to have that same drive and same stamina and just watch these things unfold.