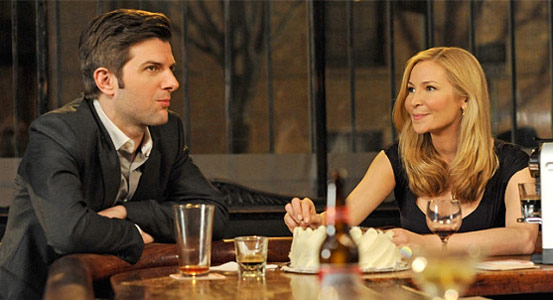 Friends with Kids, Jennifer Wesfeltdt's directorial debut, features Westfeldt and Adam Scott as a pair of platonic friends who decide to raise a child together after watching their married friends go through various stages of raising families.
Westfeldt, probably best known for the indie films Kissing Jessica Stein and Ira & Abby, made her Broadway debut in the revival of Wonderful Town and earned a Tony nod for her performance.
The film, which also stars Kristen Wiig, Maya Rudolph, Jon Hamm, Chris O'Dowd, Megan Fox and Edward Burns, has some "unbelievably talented" comedic actors, but improv wasn't a huge part of the shoot. "When you are on an indie," she said, "it's hard to find time for too much of it."
I talked to Jennifer in a Q & A about why she fell into the director's chair, her writing process and how much of the film is based on her life.
Friends with Kids opens in limited release today
Jennifer, did you base this film on anyone's life, yours or a friends?
Jennifer Westfeldt : None of the characters are directly based on anyone in my life. But the kernel of the idea does come from my life — that is, from being out of sync with my peer group, and observing so many friends and people in my sphere making this profound, seismic life transition — and observing the ways in which different people handle that transition, the ways in which the friendship dynamic can shift and morph for a time, the ways in which the romantic relationships can be affected, the way you miss (and your friend misses) the one on one time you used to have, and the like… I am lucky that I have so many close girlfriends who were incredibly candid with me about the experience and the identity shift and I noticed a theme or thread in what they all said — they all said (in one way or another) that they had never experienced a love as profound or deep or rewarding as the love for a child — and also, that it was the hardest thing that they had ever done. (And that no one had told them that part!) It was that duality that really intrigued me.
This was your first film as a director.  How did that change the process juggling the acting and being in charge?
Jennifer Westfeldt : I hadn't planned to direct the movie. We were in talks with Jake Kasdan to direct, which we were thrilled about, but on any indie film, you generally find one small window when your cast is available at the same time — and when that time came, Jake was still working on Bad Teacher. So Jake, along with our other producing partners, strongly encouraged me to step in– we would have lost our cast otherwise, and not made the movie. I only agreed when Jake proposed a deal — he would come aboard as a producer, and was on set for the actual shoot, as a second pair of eyes when I was onscreen. He was a mentor and incredible collaborator, and was so so generous to uproot his wife and newborn baby to be on our set during the worst winter in New York in over forty years! My DP Will Rexer was also a great partner — he was endlessly patient and generous with me — he spent so many hours in pre-production fielding questions from me, we watched films together, spent a lot of time shot-listing, blocking out scenes, making sure I could translate my thoughts to a crew clearly. It was a steep learning curve for me and I wouldn't have necessarily chosen it, but I was ultimately happy for the challenge. But I don't think it would have been at all possible to juggle these hats without an incredible team supporting me.
What is your writing process like?
Jennifer Westfeldt: I am not sure I have a writing 'process', as I have only done this three times in ten years! But on this one, I wrote the first half of the film quickly, about four years ago, then put it in a drawer, got busy with acting jobs, and forgot about it. I picked it up again about two years ago — and I guess I just reconnected with the original idea that interested me — the group dynamic, and how this alternative family choice that Jason and Julie make ripples through the group of friends and makes everyone feel jealousies, insecurities, judgments — and how it makes everyone re-examine their definitions of love and friendship and family and even physical attraction. That's when the Vermont dinner scene was born. The night I finished the first draft, we had a table read at our house — to hear it out loud and see if we had anything. A group of actors (Adam came and read Jason) came — as well as screenwriter friends, and we all stayed up til about 2 am talking about the ideas in it, what resonated, what didn't. I continued that reading and workshop process for the next few months — it was after one of those readings that Mike Nichols came aboard as an EP.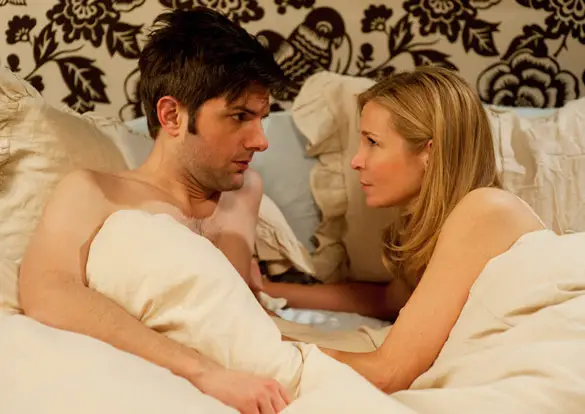 Adam was great in the film, how did you decide he was the right guy for the part?
Jennifer Westfeldt : Adam came and read the role at our house the very first night I finished the first draft — we had a group of actors and sat around our dining room table, pasta and wine and a cold table read. Adam was fantastic, as I knew he would be — and after that, I honestly couldn't picture anyone but him playing this role. I didn't want to make the movie without him. I think the film is really about Jason, and we needed an actor with tremendous range to pull it off — that's Adam. I've known Adam for fifteen years, and I've seen him in almost everything he's ever done — onstage, on TV, on film. I think he's just as good as it gets.
Did you toy with any alternative endings? Or was that the only ending you envisioned?
Jennifer Westfeldt : We definitely discussed other endings — and I took a few stabs at other endings during the process. But the ending we have is one that Adam and I both believed in from the start and stuck with. We stand by our last line!
Did you encourage improv on the set, especially with actors like Kristen Wiig & Maya Rudolph?
Jennifer Westfeldt : I wish we had had time for more improv on this shoot, given the unbelievably talented comic actors we were so lucky to have! But when you are on an indie, up against it every day and not sure if you'll even make the day, it's hard to find time for too much of it. It was easier in the two person scenes then in the group ones — just given how many people you have to cover and the time constraints with our budget. But there are definitely some improv that made it into in the cut — maybe 10% of the film?
What are you are working on next?
Jennifer Westfeldt : My next project is a pilot I am attached to co-star in, with Alan Ball Executive Producing — I am teaming up with another writer to write the pilot based on an idea and treatment I sold a year ago (it was put on hold when FWK got greenlit). They have been very patient with me! So I am happy to be diving back into that next.
How long was the project from the moment of idea, thru writing, to the end of filming?
Jennifer Westfeldt : I wrote the first half of the script four years ago, then put it away — I took it out two years ago, finished it in February 2010, wrapped in February 2011, now it's coming out in March 2012 — ten years after KJS came out and five years after Ira & Abby came out. There's been a lot of weird coincidences on this project.
How involved were you with selecting the songs for the film? I loved how you expanded what was happening in a scene with lyrics from artists like Jenny Lewis and Ella Fitzgerald.
Jennifer Westfeldt : I was involved with every music choice. I fought for every cue and made personal appeals to the artists, since our budget was so tight and we couldn't afford many of the tunes!