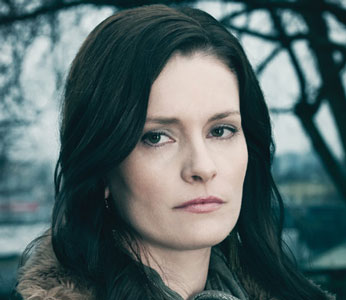 If you're not watching AMC's The Killing, then you are missing out on some great work by one of the best cast's on TV.
The show revolves around the murder of teenager Rosie Larsen and as the story deepens, we're finding out that Rosie's aunt Terry, played by Jamie Anne Allman also has some secrets she's been hiding. 
I talked to Jamie recently and had a really fun conversation with her about the show and what it's like on-set when you have to deal with such a depressing subject. She also talked about taking risks when you audition and had a perfect example on when she auditioned for The Shield. She took a chance, nailed it and walked away with a recurring role on that show.
At the end of The Killing's season, we'll find out who killed Rosie and that will unfortunately end Jamie's time on the show. But, you can soon check her out in the upcoming film, Any Day Now (which also stars Alan Cumming and Garret Dillahunt).
Want more of The Killing? Check out our interview with Eric Ladin!
For the full interview, click the audio link above or download it from iTunes
How far in advance to you know, like what's going to happen on the show and for your character?
Jamie Anne Allman:  Well, for instance, I didn't know that Terry was an escort. I was like, "Really?"
By reading the script?
Jamie Anne Allman:  Yeah. They do give you broad plot points. They have been very vague at times but ultimately, any questions that you have, they are there to answer them for you.  But, yeah, they'll give you broad strokes about what's going on in the next couple of episodes, and then they don't elaborate necessarily but they give you a broad idea what's going to happen.
Do you create a back story or did you create any sort of back story for the character?  I mean it's got to be really hard for a show like this.
Jamie Anne Allman:  Yeah, because of the circumstances, I didn't.  I made everything that was written personal to me, and that's how I did it. It was hard to make a back story, because I didn't' know what I would be making a back story for.  I did do I guess a little bit of back story with the grieving family, because that was from the get go a through line about, you know, a child dies in the family and everyone is affected, and so I did do some research with people that have had children that have died at a young age and how that effects their family and different things like that.  But that's the only constant thing that I've known about from the beginning.  So I have done a little bit of research there, I would say.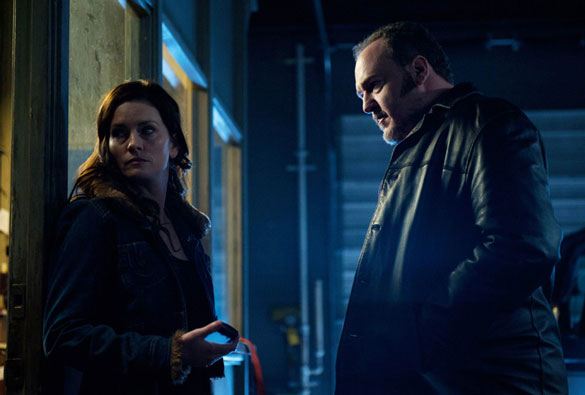 What's it like on set, because in the show it's always raining and the subject matter you guys are dealing with is just awful.  How is it hanging out on set?
Jamie Anne Allman:  When we have like intense scenes, I'm very focused and I don't really talk a lot to people, like we're there to do the work.  But as soon as your takes are done and you've been there for your other actor and you're done, we really do joke around a lot.  I love joking around with the crew and the make-up people and everybody.  I love working with Brent Sexton and Michelle Forbes and the boys.  Those are the people that I have cemented with and bonded with the most.  We joke around and have fun with each other, you know what I mean?  You kind of have to, I mean it is some deep stuff sometimes, you know?
At the end of the season, we're finally going to find out who killed Rosie Larsen.  Does that mean your story line end?
Jamie Anne Allman:  Yes.  The Larsen story line is ending. The Larsen case is ending and they're not introducing a new crime in the finale.
Oh wow.
Jamie Anne Allman:  They were going to introduce a new crime but they had so much footage and, you know, so much information to cover in 47 minutes or something like that, they cut out Act 5 and they will no longer be introducing a new crime at the end of season two.
So, I just want to talk about your career a little bit.  How did you get your start?  Did you always want to be an actress?
Jamie Anne Allman:  Yeah, I've always been an entertainer and one of those kids that's an entertainer with their family and their friends, more on the side of comedy and enjoying making people laugh, that has kind of giving me joy, so it's kind of ironic or that I'm that I've been doing drama for over a decade. 
But, you know, my mom's very supportive and was like, "You should try acting." And I came out to Orange County from Kansas and lived with her for awhile and I was working at Jiffy Lube, being trained underneath the bay to change oil. [laughs]
Oh yeah?
Jamie Anne Allman:  Oh yeah.  And then my mom's like, "You should move up there." And I was like 'okay', so I moved up with some people that I'd met, up to Hollywood, and shortly after I was here, I started taking classes just to see how it went. I didn't grow up –  I think I did one play when I was younger but just for fun. I wasn't really into drama very much, like drama class.  I was in a drama class for a short period of time but it's not like it was something I really thought about. 
Then I studied – and I still study off and on or do a play at Playhouse West, it's on Lankershim, with Robert Carnegie and Tony Savant.  There are a lot of great teachers there.  And I feel like that's kind of like my base, where I feel comfortable and can go back and do a play if I want.  I did a play on my hiatus from The Killing last time, Dogs Eat Dogs, with my husband, and it was really great.  I love doing theater.
Do you like auditioning?
Jamie Anne Allman:  You know what, I do.  Auditioning is a whole separate entity.  I feel like acting class is its own thing, auditioning is its own thing, on set is its own thing and publicity is its own thing.  There are all these different worlds that you have to mesh into one and make them work. 
Auditioning has been funny for me.  It definitely progressed over the years and I've had to overcome performance anxiety at times to where I've gotten in the room and I just froze up and couldn't perform. And there have been times where I've felt really free and you know, like I could do anything in the room, and whatever it was it would work. And then I've gotten flack for going as the character, because you know, sometimes if it's just a really intense character which is what I play a lot of times, I have gone in and I have to go in fully as that character, and I've booked the role.  Like, I booked The Shield that way.  I went in looking like a ho from the street, as if I was on drugs [laughs]. Like whacked out looking man, like, oh my gosh.  I went in as if I didn't even know how to audition and I stood there as if I was a prostitute off the streets.  I had red make up around my nose so it looked like I'd been doing lots of drugs, red underneath my eyes, grease in my hair, nasty pasty white legs, shoes from like the 80s, short metallic nasty skirt and a tank top that was practically see through, no bra, mesh, nasty lady, and it looked like she was on drugs.  And, I booked the part.
Wow, that takes some balls.  Were you nervous doing that?
Jamie Anne Allman:  No, and that's the thing.  When I first started I did ballsy shit like that all the time.  And I feel like, when people get offended or criticized by certain things, you get scared and take risks. I always say, I heard this somewhere, but if you don't take risks, all of your friends will tell you that you're really wise and you're really careful, but you're not going to move any mountains. 
And so, it's like, I've been to auditions where I went in as the character and I did, I feel like, so well, that they actually thought I was a bitch, or they actually thought I was whatever, and I've had to call an apologize and be like, 'I'm really not that person. That's just what I needed to do to prepare today for myself, is to just be in that realm, and if you want to get to know me, we can go out to coffee and I'll make you laugh for 30 minutes.  I'll even buy you a latte.  Come on, now.'  You know what I mean?  It's been a process. I just try to read the room and do my best with where I am.  I've even like taken off my shoes before to get comfortable and I've heard people have been offended about that.  So, it's kind of a weird deal.  Kind of weird.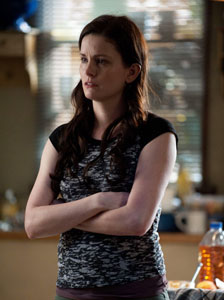 Did you catch the looks the other auditioners give you when you came in dressed like that?  I mean if I saw that, when I'm auditioning, I think I'd be completely intimidated.
Jamie Anne Allman:  Yeah, but if you're going to step out on that cliff, and jump off, honestly… I was in the middle of believing that I was on drugs.  [laughs]I honestly didn't give a shit.  And when people look at you and they're staring at you  and it fits the character that you're playing, then I just go on with my imagination and think, 'Oh my god they're looking at me because they don't want to be around me because they think I have a disease. They hate me and oh my god, they're looking at me.' [laughter]  I will use all of it. Use it and move on. You know what I mean?
That is definitely the coolest story I've heard in awhile.
Jamie Anne Allman:  Oh, thanks man, that's good. [laughter]
Over the parts that you've done, all your characters have this inner life to them.  Do you credit, you said you go to The Playhouse, do you credit that training? 
Jamie Anne Allman:  Yeah. Training, for me, I know some people don't train, which is fine, I feel like whatever works for whatever person. For me, Playhouse West is very helpful and I feel like the foundation of who I am as an actor. 
And, also, life experience and then healing from life experience, like growing as a person has also helped me in my acting.  I sometimes feel like people that have had a hard life or some traumatic experiences feel like they can't heal on certain things cause it's going to mess up their mojo when they get on set, and they need to conjure up some kind of something to get to a certain emotional state, and I believe that your body remembers those things and if you have a vivid imagination you can go anywhere.  So, the more healing and growing you can do as a person also helps hopefully hour marriage and your career.
What's your advice to actors?
Jamie Anne Allman:  My advice would be that the hardest thing to do is to hold on to who you are.  Hold on to your identity, because people will tell you if you do too many dramas, you're not funny.  If you do too many comedies, you can't do drama.  If you're too short, you're not going to be able to be a leading man. If you're this way, you're only going to be able to play athletic roles.  If you've only played certain roles than that's all you're ever going to do.  There are certain casting people that only see you for certain roles.  Whatever.  But, just keep doing whatever you need to do to hold onto who you know you are.  Whatever that is, it's your identity, it's who you know you are and don't let other people convince you of who you are.