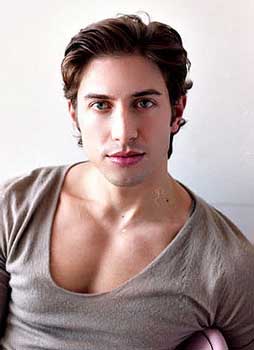 When Nick Adams moved to New York City, it took him 2 weeks a get a part on Broadway. That's right – 2 weeks and he was cast in the revival of Chicago!
In fact, his first audition was for The Producers where it got down to him and one other person.
This was all in the same week. So, yes, Nick is a huge underachiever.
Since Chicago, Nick has worked pretty much non-stop on Broadway: A Chorus Line, The Pirate Queen, Guys and Dolls and La Cage aux Folles. Now, he can be seen in his first starring role, Adam/Felecia, the youngest in the trio of drag performers, in Priscilla Queen on the Desert.
Don't think Nick's got some sort of secret luck on his side. The guy works his butt off. Even though he's starring in a major Broadway hit, he still finds time to go to acting class and is always working to further his career. He's always "working towards perfection," he told me.
Check out the interview below where we talk about Priscilla, if he has to worry about his neighbors when singing in his apartment and his great advice to actors!
For the full interview, click the audio link above or download it from iTunes
So which is more exciting getting cast in your very first Broadway show or getting cast as a lead in a Broadway show?
Nick Adams: Oh, God, well I guess probably this, this would be the ultimate, the ultimate dream I would say, but I guess they were both extremely exciting in their own ways, I mean just to be in a Broadway show, and have that opportunity is incredible and reaffirming in a lot of ways, but then this is ultimately like what I dreamed off as a kid so… this I guess.
Yeah, so how did you get the part? What was the audition process like?
Nick Adams: It was very, it was long actually, I mean I was auditioning for this show at the same time I was auditioning for the La Cage aux Folles. I went into audition for this role originally and then they offered me to come in an understudy it. And I was cast in La Cage like maybe a few days before I got Priscilla, and I was cast to be the first cover for this part, and then months later, they still hadn't found someone to play this yet, so they brought me back in and they brought back in like everybody else so that they had seen for it in New York. And I went back in and I worked on like tons of material, they gave me like every song at that point that the character was doing in the show. I came in for the creative team, all the producers and they brought me back in for call back again and I did it all over again for everybody and then I waited like 2 months and then got a phone call that I got it.
What is it feel like to create an original Broadway role?
Nick Adams: Well, it's, it's interesting cause anytime anybody ever said like, "Do you have a dream role?" That's what I would say is that "I wanted to originate a role and in a new Broadway show." I think it's been the most like exciting and freeing experience because I've had the liberty to sort of just play in and bring a lot of like what I thought I wanted to bring to it, and our creative team, our director really allowed me to kind of have my own spin on it and bring a different energy to this part and then in the West End Production and what they had in Australia. As actors, what we wanna do is to really feel like we're creating character and not mimicking somebody else's performance or fitting like a specific mold of a different actor, so to get to like build this person from the ground up has been awesome to know that, for always and like theatrical history that would have been my role. Pretty great.
It looks like the show is a work out. The head-dresses are like 10 to 15 pounds? You have to be exhausted by the end of the show
Nick Adams: Yeah, it's crazy I mean, people at the stage are door every night are like, "How the hell do you get through that show?", and you know, it's so much fun that once you get used to the costumes and the pace of the show, it's just kind of like, we are on stage and once we start we don't stop. So it doesn't give us time to rest, which is good for me because it's like once you rest and then my body realizes that it's exhausted.
And then you're done.
Nick Adams: Yeah, by the end of the night, it's like we did it and we're on like the high of the show, like the adrenalin and then I come home and crash and I'm like exhausted. It's sort of the nature of how the show structured. It keeps moving and moves really quickly and the pacing is really fast and, yeah it's definitely a work out, and I lost like 10 lbs. up in Toronto while we were doing the show there. It's definitely aerobic, yeah for sure.
Did you always know that you wanted to be an actor?
Nick Adams: Yes, always. I mean I started doing shows when I was 9 years old at the community theater of my hometown and I didn't even consider another option of what I would do. I just couldn't imagine doing anything else really, I mean it was just understood, I was just gonna be an actor and my parents were thankfully very supportive of that and allowed me to go after it. So, this is definitely is the best thank you for all the support and money they dumped into that over the years. You know, lessons and college and everything. So, yeah, this was it. I didn't give myself a backup plan. I kinda came from the mindset that if you plan to fall back you will so, I just wanted to go for it.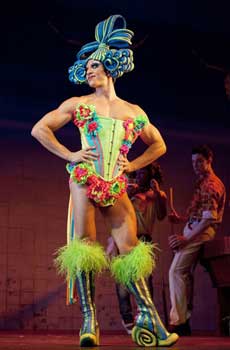 You went to the Boston Conservatory of Music?
Nick Adams: Yeah.
From when you graduated and your move to New York, how long did it take you to get a job?
Nick Adams: My second week here, I got a job.
What? Wow!
Nick Adams: Yeah, I know it's ridiculous. I go back and I talk to my school or different musical theater programs, I'm like, "Listen, this is not typical. A great opportunity came along and I was ready for it'" , like it, a lot of my friends that I graduated with who are like insanely talented are still auditioning and waiting tables and stuff, so I'm like it's not the typical New York story but I'm really happy it's my story. [laughs]Yeah, so I came here and I had an agent before I moved here which definitely helped.
How did you get the agent? Just through your school?
Nick Adams: Well, my school does a showcase with their graduating seniors so, we come down from Boston do our showcase, meet with agents and then go back and graduate and then move here. So, I already had my agent from the showcase setting up auditions for me. And, so the first week I came and I auditioned and the following Monday I got a call that I got a job, so it was pretty nice.
Was that your very first audition?
Nick Adams: No, I auditioned for… I remember I came and audition for The Producers. That was like my first audition as an under-graduate. And I made it down to me and one other guy, that right there I was like, I don't know, that was enough encouragement. I was like, "Ok, I can do this. I can make a profession out of this. If this is my first audition and I've already made it this far?"  And then the next one was Chicago and that's the one that I booked and so it was a good week. [laughs]I was really on my game that I guess. [laughs]
Best week ever. Since you've been working professionally, what's the longest time you've been without a job?
Nick Adams: Maybe 4 or 5 months? I think once I closed Guys and Dolls… I mean, the longest stretch that I've gone without a show, without being in a Broadway show… The in between, I feel like I've even more busy than when I'm in a show because I'm doing more auditions for TV stuff. I did some soaps and like a movie and random things but I think the longest stretch that I went without doing a Broadway show is probably like 4 or 5 months. It gave a lot of time to do other things but I don't know it went by so fast that I was like, "Oh I'm back on Broadway again."
Is your first love Broadway? Would you ever want to do a TV show?
Nick Adams: Oh, absolutely. I mean I grew up wanting to be an actor and my dream was to do Broadway shows. I don't know, I just love live theater and I love that like instant sort of gratification of an audience sitting there and getting to see their response, that's really exciting to me.
To be completely honest, I mean the most lucrative side of acting is with TV and film, financially. So, absolutely. I absolutely want to explore more of that now that I've kind of… I just kept notching off goals, each show that I did sort of fulfilled some type of goal of mine. I've like maxed out on the Broadway scene so it's completely like, I can't do anything to top this now. I mean, this is it. Which is mind-blowing to me that I've done it. So now I've just set some new sites on some other things. I mean, Broadway is always gonna be where I feel like home and my place, but I definitely wanna move into some areas that could help me pay my rent a little bit more.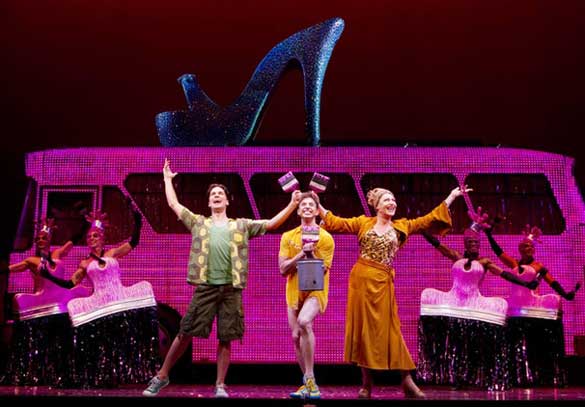 Now that you've done this, did your goal list get longer or shorter?
Nick Adams: I think it gets longer, 'cause I think each one unlocks a new possibility. It's longer 'cause when I was a kid it was like, "I wanna be on Broadway." And then it was like, "I wanna be starring in a Broadway show." And now it keeps growing. I think it's healthy though, keeps me motivated, keeps me pro-active.
Have you ever had any, probably not, but have you ever had any nightmare auditions?
Nick Adams: Oh, of course, yeah. I think everybody has. Oh God, I feel like I've had a lot of them actually. The casting directors for this show in particular, I feel like every time I've auditioned for them, aside from this show, I like crash and burn, absolutely. I don't know what it is. I don't know if it's like the energy of their studio, their offices, or the acoustics. I don't know what it is about that building, but I go in there and it's like never fail, just busted always. So, this was really refreshing for me, it was like the first time I think that I showed them that I'm not 'talent free'.
You're not walking around in a talent free zone?
Nick Adams: Yeah, I mean I remember they brought me in to play 'Fiyero' in Wicked and I was so excited, I was like, "This is the perfect fit for me." And I like worked on my stuff so much and I got up that morning and… I had coached it with so many people and I just kept going over it and going over it and going over it my apartment, so by the time that I got there my voice was blown out. I had sang the stuff to the point of like being a little neurotic, just like obsessive. "I gotta make sure that this sound's good."  So, by the time I got there and I try to do it for them it was like, just like nothing. [laughs]I had nothing left, so bad. So, I'm lucky that they were even considering me to come in for any of their shows ever again after that.
When you go full out in your apartment, do you like ever worry about your neighbors?
Nick Adams: No, I'm like, "Fuck it. I don't care." [laughs]I mean, they can leave me a note if they're pissed. I live in midtown Manhattan. It's like, if you live in midtown New York, like near the theater district, you'd better expect there's gonna be people belting in your apartment building at all times. That's why I don't get mad, when I hear somebody practicing or playing the piano and it's like probably not the best time of day for them to be doing it, I'm like, "Oh they probably have an audition. It's ok."
What's your advice to actors?
Nick Adams: Don't do it unless you can't do anything else. Not that you can't do anything else but if you can't live without this, then you should totally try to go for it. But it's so tough. It's such a personal tough thing. And for every 'Yes' there's like a million, I know it sounds cliché but it's definitely true, I mean, for every 'Yes' there's so many 'No's'.
Being in the ensemble was so fulfilling for me for a while and I loved just getting to perform and I loved what that satisfied for me but it got to the point where I was like, "I know that I have the capability of doing more than this and I'm afraid now that I'm stuck and I'll never be seen for more than just being able to dance and sing and not get to do everything." And, so it was tough. Even though I was working, it was hard for a while to sort of push it to the next place, so there's always obstacles even when it feels like success has come your way, there's always something there with this. And it's unreliable and it's a roller coaster, so if you're not cut out for that it's gonna be a nightmare.
People ask me, "How can you not know how long your show is gonna run and when it closes? What are you gonna do next?" But I kind of thrive on that, I think it's exciting, it makes everything so vibrant in life. I don't know, it's a specific breed of individual. But I think the best advice is to be the most prepared that you can and be as good at as many things as you can because it never hurts to be versatile. And I think if you're a student like if you're young, you should go to college for theater and to learn as much as you can before you enter into this competition and this talent pool.  To have a degree I think is important.
All of my friends that are on Broadway are still taking acting classes and still training with voice teachers. So it never really stops. I don't think you ever reach a place where you're like, "Ok, I'm the best at this will ever be." You keep working towards perfection.
Follow Nick on Twitter and check out his website here!
Priscilla Queen of the Desert is playing at the Palace Theatre, 1564 Broadway. For tickets, click here
Check out my interview with J. Elaine Marcos, also from Priscilla Queen of the Desert!