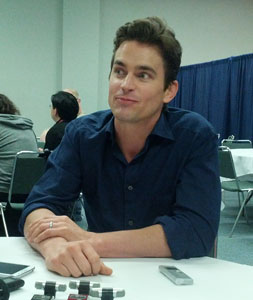 I've always liked Matt Bomer and love him in USA's White Collar. But, I guess I never really knew how popular he was till I tweeted a picture I took of him when I was at WonderCon. It was the most re-tweets I'd ever gotten on anything ever. I stopped counting after 100. It was crazy!
So, yeah. People love Matt Bomer.
And what's not to like. The guy is incredibly handsome, smart, funny and a great actor. Now, he can add playing the Man of Steel as something else he's good at. That's right, he's voicing Clark Kent and his alter ego, Superman, in the new DC animated film, Superman: Unbound, which also stars Castle's Molly C. Quinn.
I talked to Matt in a roundtable interview and it went by quick. I think we only got like 6 or 7 minutes with him. He was very cool and I hope one day I can talk with him longer and ask him some more in-depth questions. In the interview, he talks about doing voice work and how it's "almost harder" then being on-screen, why he found playing Superman challenging and how the part has been circling his career "pretty heavily."
Superman: Unbound will be released on May 7th on DVD & Blu-Ray
For the full interview, click the audio link above or download it from iTunes 
I don't know how serious it was that you almost had the role in a movie.
Matt Bomer: Yes, many incarnations ago.
What is your mindset about this character? I mean, from almost wanting to play voicing him and how do you view him?
Matt Bomer: Well, I also got to play him in a Japanese car commercial. Let's not forget that. And thrilling portrayal. I'm kidding.
No, you know, it's definitely tied into my life and career pretty heavily. But, you know, and I had a blast getting to work with JJ's earlier drafts with Brett and, you know, as it happens many times, he left the project and a new filmmaker came on, wanted to find his own Superman, and that's life. But at the same time, it afforded my career so many great opportunities that I wouldn't have had otherwise. So when they called me to play it I was like absolutely.
It's a different beast because all you have… the only instrument you have to influence the character is your voice to convey who he is, where he is, what his emotional state is, and that was a particular challenge. You know, I don't have the tights and cape and the glasses to play with, so… but it was great, man. I was in really good hands with this creative team, especially Andrea [Romano]. Andrea, she's just, you know, a legend in her field. She was able to shepherd me in the right way, so it was a lot of fun.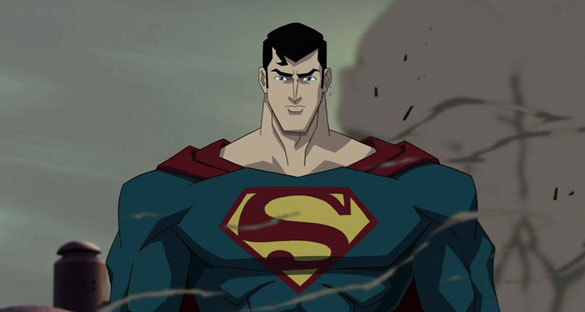 Did you discover anything new about Superman by doing more internalization and more looking inside?
Matt Bomer: Well, it's a particular challenge when you're playing a role like this that's been so iconic for me since I was, you know, 4 or 5 years old. Because inevitably you have in the back of your head all the different interpretations from the comics to the films to the cartoons to the TV series and so what you have to do is really focus on the story at hand and the incarnation at hand. So that's what I tried to do.
And in this particular version I think he's a very mature Superman. As usual he has a lot on his plate, but he has… he has a very paternal instinct towards Supergirl and he has a very protective instinct with Lois because he fears their relationship could endanger her. And so I try to keep… and he's also dealing with Braniac, who's a pretty weighty foe as you know I'm sure. So I try to keep all that in mind and keep things with Lois outside of that a little light and flirty and do as directed.
But I did get way too into it in the physical scenes. Because you take it seriously. I mean, you know, this is a role that a lot of people love and have ideas about so you wanna make sure you're staying in that wheel house. But when we're doing the fight scenes, I mean, I was really swinging and bouncing all around the sound room and I'd look into the booth and they'd be laughing at me. I was like, "You want the real thing or you want a fake one?" So we had a lot of fun. It was a good time.
Doing voice over work, it's gotta be the greatest gig as an actor, right?
Matt Bomer: It's the greatest gig in the sense that you can show up in your pajamas and not really have to worry about all the sort of superficial aspects that go into being in front of the camera. But it's a tough gig in that, like I said, you know, all you have is your voice to influence the characters.
Do you think it's harder almost?
Matt Bomer: In some ways. In some ways it's a lot easier and in some ways it's a lot harder. You know, you might have to… if you don't have your face to convey an emotion, you might have to give a little more on your voice and so it's kind of a fine line.
Since you're playing  Superman as a voice actor, have you ever thought about maybe you might be doing some other superhero parts?
Matt Bomer: I think that'd be great, man. I think…
Like, who would you wanna play?
Matt Bomer: Oh, gosh. Nightwing. Just saying. Getting that out there.