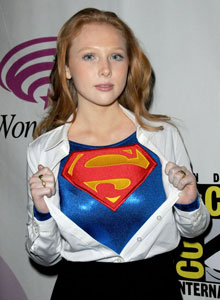 Castle's Molly C. Quinn is taking up residence in Smallville. In the new DC animated film, Superman: Unbound, she play's the Man of Steel's cousin, Kara. Better known as Supergirl.
I talked to Molly at WonderCon where she talked about voice work, preparing the script beforehand and what superhero she'd love to play in a live-action film.
Superman: Unbound will be released on May 7th on DVD & Blu-Ray
For the full interview, click the audio link above or download it from iTunes 
So how do you feel about Supergirl as a character and the experience of voicing her?
Molly C. Quinn: I felt very similar to her, to be honest. She's very headstrong and when she wants something, she's gonna get it. When she wants to get something done, she's gonna get it done. And she doesn't need anybody else to tell her how to get it done or anything like that. She knows that she's capable and she's gonna do it. So that's what I tried to bring to her and that's what I connected with her about and that's definitely what I took from her.
When you get the script before hand, do you do a lot of preparation before you get there? Or are you just kind of like, "Alright. I wanna try it 4 different ways."
Molly C. Quinn: No, no, no, no, no. I'm messing with those lines a million other ways. And usually if I can make it home, I have three little nieces, if I can make it home I'll read it out for them and I'll have them play stuff. And I'll have, "How would you say this?" You know, "If you were punching through a building, what noise would you make?" And they'll just, you know, "Ahh!" You know? Do something totally crazy and I'm like, "Wahh," trying to spell it out. And there's nothing better than that. I mean, I guess you can call it cheating or using my nieces and my, you know, little boy cousin and stuff like that, but it's invaluable. It's completely invaluable. So I do a lot of preparation for it and it's a lot of hard work, but it's fun. It's absolutely fun and… yeah, it's great to watch them play too.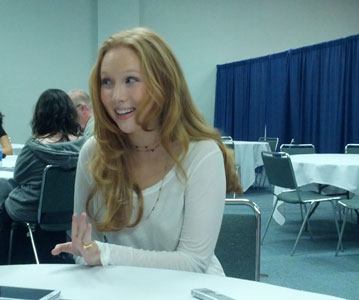 What was it about this particular Supergirl character in the script that brought you to it that made you want to do it?
Molly C. Quinn: Well, what… above everything else, Andrea Romano asked me to do it. And I would do anything that she ever asked me to do and that includes weeding her garden. Anything she asks me do to, I will do because she is such an amazing woman, always has been, and always will be.
I really liked the difference between Kara and Supergirl. I really got to play two different characters because, you know, from the comics and everything else you really see how Kara is completely different from Supergirl. She grows into Supergirl because she's all of a sudden given these powers. And so to play this very kind of shy, sweet girl that all of a sudden gets thrown into these extraordinary circumstances was totally… what's the word I'm looking for? I really liked that and I wanted to do that. To be able to play two people in one character, to be able to show two sides of a coin, that's really what I look for and that's what I enjoy the most doing with her.
You worked with fellow Castle cast members on this film as well. Were you recording at the same time together?
Molly C. Quinn: I feel so bad, everyone asks me that and I'm like, "No." I'm gonna start just lying and say, "Yes, we did the whole thing together. It was great. We ate bon bons. She made tea." No, we didn't work together. I wish. And I think…
You play really well in the film together.
Molly C. Quinn: I mean, that's all due to Andrea and the editing and everything that those guys do to make this film incredible. We do such a small part and they make it so good. They make us look really good.
What kind of context did you have with Supergirl prior to this gig? I mean, did you have any ideas about Supergirl? Was that a type of character you always wanted to play?
Molly C. Quinn: She wasn't a character that I ever really thought of. I always thought more about villains. In fact, I was just talking about Poison Ivy over there as being one of my favorites. I never saw myself as a hero and when that was brought to me, I thought, "How interesting." Because I've always thought that, you know, heroes can be a little stagnant, you know, a little one note. So I thought, "I'm gonna play this like I would, you know, any other of the villains that I pretend like I am. I'm really gonna try to give it as much good and bad as possible because no one is all good and no one is all bad." So I never thought about it, but it was great being able to do it. And now I think about it all the time. I've definitely had a couple of dreams of flying around in the Supergirl outfit.
Now that you got to voice Supergirl, if you got to do any superhero in a movie or TV show, who would you wanna play?
Molly C. Quinn: That's so difficult. There are so many great ones. Like I said, I would love to be Poison Ivy, I would love to do Batgirl. Harley [Quinn]. And this is just DC Universe that we're talking about. I mean, if anyone does the Umbrella Academy, I would love to play the Rumor. I mean, are you kidding me? That would be insane. And then if you go into Marvel, I mean, come on. I mean, I would've loved to have been Mystique, I would love to be Mercury, I'd love to be all those characters. It's endless. So to play any of them, live action or animation, is a huge blessing because those roles are coveted. And they should be coveted, they're important and people really enjoy them. And that's why we have a big responsibility to bring them to life and that's all I ever wanna do with any character.