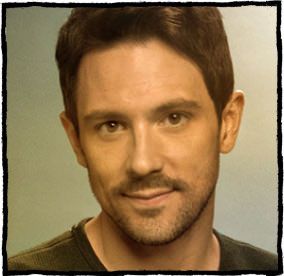 I'm torn.  While there are a lot of great shows up for Tony Awards this weekend, I'm concerned that Once, the adaptation of the Academy Award-winning 2006 Irish film, will win most of its eleven nominations.  Although I'd love the show to get all of the accolades it certainly deserves, I have not seen it yet and I know that the more awards it gets this weekend, the more expensive it will be to get tickets to see it. 
All kidding aside, Once is expected to win in a number of its categories and will likely run on Broadway for quite some time, which means I'll have more chances to see it regardless.  The show's star — who is up for a Tony for Best Actor in a Musical — is Steve Kazee, who spoke to the Huffington Post about the difference between the original film and the musical and what sets Once apart from other adaptations.
When asked about whether or not Once falls into the seemingly oversaturated category of movies-to-musicals, Kazee disagrees with the idea that it does.  He points out, "I have to say I think we're an exception to the rule in the sense that our creative team is so, and I use the word genius, and I use it honestly. They had a way of creating something from the beginning that was just simple, so I knew from the beginning that we were going to be something completely unique. I didn't know if it was going to be received in the way it's been received, but I knew at the end of the day artistically I'd be proud to be a part of it. I can't really speak for other movie-musicals that have come in, because I think oftentimes what happens is you get a movie that doesn't have any songs in it, and you just put songs into it, and it doesn't really work. I think we see that more often than not."
Despite the praise for the original film, Kazee says he did not study the performance of Glen Hansard, who plays his character, Guy, in the original film.  He says, "I'm not Glen. Glen is one of my favorite artists, and that movie is one of my favorite movies. I thought if I go into this trying to recreate that, I'm done, dead in the water, the show's dead in the water. I'm just not Glen — Glen is a very unique human being. "
True, he might not be Glen, but he is someone that had almost swore off Broadway because of his previous lack of success who has a good chance of being able to add "Tony Award winner" before his name after this Sunday.
Once is now playing at the Bernard B. Jacobs Theatre