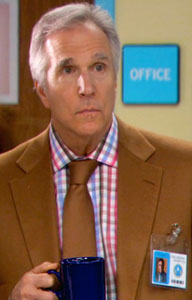 Comic-Con: I grew up watching Henry Winkler as The Fonz on probably one of the greatest sitcoms ever, Happy Days. So, it's always a huge treat to get a chance to talk with him and better yet, to talk with him face to face. He's always the nicest person in the room and any story he tells, you just hang on his every word.
And that was the case for me when I talked with him at Comic-Con for the upcoming season of Childrens Hospital. In the show, he plays hospital administrator, Sy Mittleman, and as they say in is character bio, "Though his backbone is weak, his weakness is strong."
Winkler also stars in the USA show, Royal Pains and it was just announced that he would make his return to Broadway as a p–n mogul in The Performers. This, I can't wait to see.
In the interview, Winkler talks about Childrens Hospital, his long career and the two words he lives by.
When you were first approached to be a part of this show, how was it pitched to you?
Henry Winkler:  I was told that there was a new show that was on the Web and it was going to television and that they would like me to be a part of the show.  I knew them slightly because I did an evening at the Stand Up Citizen's Brigade in New York City, and a lot of them were part of it.  And then I didn't see them again ever.
How great that I was smart enough to say 'yes'?
So what of yourself do you bring to your character?
Henry Winkler:  You know it's an interesting thing; the honest answer is: you always start with yourself.  And then you add the condition of this kind of lost human being.  And being a little dyslexic, I do leave my bed and get lost going to the bathroom, so in that way we're similar.  Also, how lucky am I that I get to hang out and be with this cast?
Do you guys hang out outside of the set?
Henry Winkler:  You know, we had a wonderful party at Erinn Hayes' house, a barbeque.  That was it.
What makes the show so unique to me is the fast pace of the dialog, the jokes flying…
Henry Winkler:  Well you know what, I would say that a 95 to 97 per cent of the show is written before hand and it is written and those men, John [Stern] and Rob [Corddry] and David Wain, they watch it so carefully.  They are very protective of their voice.  As chaotic as it seems, it's really amazing.  It really is thought out.
How hard is it to stay in character when you're surrounded by so many funny people? .
Henry Winkler:  Sometimes you do break up.  Sometimes you are watching them.  Sometimes I watch, I'm in a scene with Megan [Mullally] and I lose my concentration because I go, oh my God that was amazing.  Oh my Lord, she is – Rob Huebel, Erin and Lake Bell, you know, and Megan who is not here.  Oh, what a lovely acting partner she is.  Very generous group of people.
Your resume has gotten progressively more out there and strange as the years have gone by, is there something about you don't care as much about – I mean you're not as concerned anymore about taking risks?
Henry Winkler:  No.  If I feel it in my stomach, if I think, oh I can do that, I will just say yes.  And then the things that don't sound right to me, I will not participate in.
But, how lucky? There are so many actors who are sitting at home and I get to do all this wonderful stuff.  I have a movie coming out in October that is called Here Comes the Boom that is starring Kevin James and Salma Hayek.  I do a wonderful show, a more traditional show called Children's Hospital and then I do an even more traditional show called Royal Pains, which is a lot of fun.  I just came back from New York shooting those episodes.  So I live by two words, tenacity and gratitude, and I am filled with both.
How do you like going on location to shoot?
Henry Winkler:  That is a little difficult because I'm always away, but my granddaughter who is two and a half lives in New York so when I shoot there I'm with her.  I have written 21 novels for children, with my partner Lin Oliver and I go on book tours in England and I was just given the Order of the British Empire by the Queen of England for the work that I do with children with learning challenges there in England, so it's rewarding, but the travel gets difficult.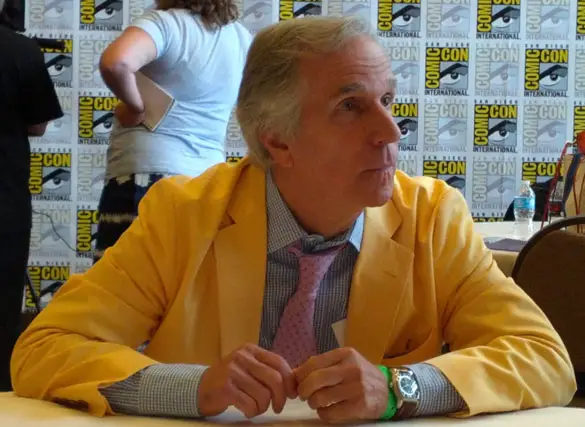 When you first heard the name Childrens Hospital, was it anything like you thought it would be?
Henry Winkler:  I had no idea what I was in for.  I am not kidding.  When I showed up and Rob Corddry was standing there in full clown makeup, I thought, you better just buckle in.
We talked about your long career, is there something still out there that you would love to do that you haven't had a chance to yet?
Henry Winkler:  I don't know what it is.  I'm waiting to see what it will be.  There is the possibility of a wonderful experience that will come in September, but I can't talk about it yet.
We won't tell anybody.
Henry Winkler:  Oh yeah, and I appreciate that.  Yes.  No, I appreciate that.
Were you involved at all in the future Arrested Development's?
Henry Winkler:  Well, not yet.  What I think is going to happen is that there will be eight or nine episodes and they're trying to make the deals now.  We were supposed to start shooting August or September and I don't know if it's going to be pushed.
But you'll be involved?
Henry Winkler:  Well, I'll tell you, let me say this – they asked me my availability.  That's as close as it's come.
Let's talk about within the show in terms of future story lines that you'd like to see that you haven't seen yet?
Henry Winkler:  No.  I never think about that because my brain doesn't work the way these people do.  We had a lunch.  John and Rob came to my house and we had a Chinese chicken salad and a delicious fruit iced tea for lunch and we talked about the future of Sy.  I didn't see one thing from that conversation in the season, so it was just a nice lunch.  But no, I leave that up to those guys.  I really do.