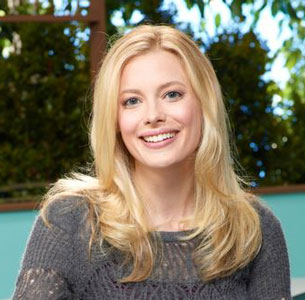 Gillian Jacobs stars as Britta in NBC's hit (yes, hit!) comedy, Community.
After a brief hiatus and scare that the show wouldn't return, it came back with great ratings and hopefully, the show is here to stay.
Gillian graduated from Julliard and immediately started working off Broadway. She appeared at the Public Theater, in Philip Seymour Hoffman's The Little Flower of East Orange, opposite Ellen Burstyn and Michael Shannon, the Playwrights Theater's A Feminine Ending and in Adam Rapp's Cagelove at the Rattlestick Theater.
She was also in the great indie, Helena from the Wedding (check out the cast interview here), opposite Melanie Lynskey, where she sports a dead-on British accent. I swear, I thought she was English for months. She also appeared in The Box and Choke (opposite Sam Rockwell).
I talked to Gillian at WonderCon about the intricacies of filming the show, how parts of Britta is still a mystery to her and if she thinks there will be a fourth season.
Follow Gillian on Twitter!
Community airs on Thursdays at 8/7c on NBC
So, we got to see a really cool side of Britta during the re-premiere of the show. She was raised in a stable family household was really unexpected.
Gillian Jacobs:  I know she's very ashamed of that history, it took some alcohol before she confessed it to Annie that she comes from a long line of wives and mothers, I know, her dark, dark secret.  It's so great, because you just see a woman in conflict with herself.  Obviously, she can put together a floral arrangement like nobody's business and she wants none of it, so I love that about her.
How did you react to getting to see this new development in your character's story?
Gillian Jacobs:  It makes total sense, because you always wonder, how did Britta end up the way she is?  I feel like maybe no one hurt her and she just doesn't like the fact that she came from like a normal household.  So, there are still parts of her that are a mystery to me and I always like when we get to peel back the onion a little bit more on the show and learn another little piece of the character's history.
Do you like doing episodes like that better? Or do you like the episodes that are not part of the back story? Like where you're doing something weird?
Gillian Jacobs:  Well, our show, it feels like you can't have one without the other.  Community is where high concept and character meet, I feel like, you know?  Because I feel like if you didn't like the characters or care about them, you wouldn't get as excited for the high concept ones.  And if you didn't have that, I wouldn't feel like our show is as unique as it is on the landscape of TV. 
So, it's certainly, well I was going to say easier hours, but you know what, by the end of that week when we were doing that wedding episode, when we were doing like our version of the electric slide, it was like 3 in the morning. So it wasn't really any easier hours.  And that's why I think my dancing was so particularly horrible at the end of the episode, because they were like wake up and dance! And they'd prod us and we'd get out there and do the electric slide.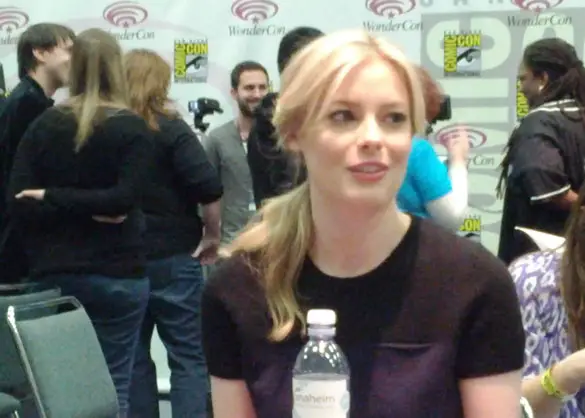 Dan has said that the scripts kind of got darker with the hiatus. Was that something you guys would notice in the scripts like gradually, or was it like you got a script one day and like on page one you're like, "Oh God …."
Gillian Jacobs:  Well, I felt like the first half of the season was kind of dark too. Like Jeff killing Pierce's father, full of dark.  It felt like, the sort of Heart of Darkness episode with the Dean trying to make the commercial where he is at the end of it naked running through the halls smearing soot on himself.  I mean, I feel like those were already there.  I feel like, Dan has always said this is going to be the dark season, so then maybe the fact that we got pulled from it, we are a very meta show, so the meta gods decreed that we had to then get pulled off the air on our darkest season.  I still do feel like it's a funny show even when we have really horrible things happen.
How many times do you think Jeff and Britta are going to end up in front of an altar together?  Because this is the second time it's happened.
Gillian Jacobs: I know, the first time it was Abed's fault, and the second time it was our fault.  I said earlier, as long as there is alcohol in the world, there is still a possibility that Jeff and Brita will try to get married to each other.
How was it shooing an episode like 'Chaos Theory'?
Gillian Jacobs:  We felt like we were losing our minds, because it's like you had to do the same four lines seven times for each different scene. 
For example, like Jeff hits his head on the ceiling fan, so it would be like okay, the real ceiling fan, pause, replace it with the foam one, okay Joel stand up, hit the head, okay start back over again, replace it. Just the amount of times that you had to do everything over and over again.  We completely lost track.  It took us so long to finish it. I think like maybe up until the week it aired we were still shooting bits and pieces, insert shots, fire, trolls, pies.  I mean it was so complex, that even though it only took place in Troy and Abed's apartment, I felt like that one nearly broke us.  Like, we were losing our minds.
That more than the clip show?
Gillian Jacobs:  Yes, I would say so.  I mean the clip show was like a sprint, you know, because we had one day in the Universal back lot to shoot a lot of that show. But it was like from 4 in the morning until 6 p.m., go. 
But with the timelines it was like it's 3 in the morning, you're working on this other episode, but go change into those other clothes and go back there and do a scene with Yvette.  I mean, there was one night it was like 2 in the morning and Yvette and I are by ourselves, basically, in the apartment doing a scene and it was like, "Wait, what?" "You're high", oh, okay.  Great, let's go.
Are you confident there's going to be a season four?
Gillian Jacobs:  Yes!  The fans demand it! A fourth season will happen!
I hope so, I really do.