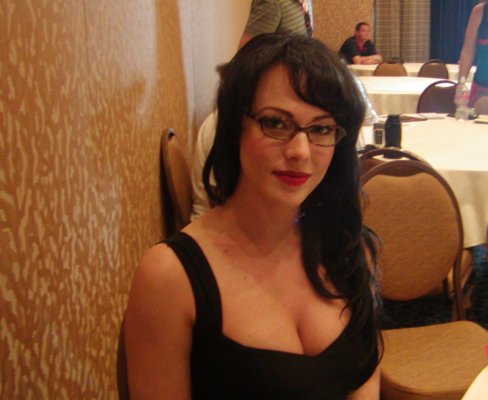 If you're a fan of Dollhouse, you've most likely seen Erin Cummings. She had a recurring role on that show this past season and also had a guest starring role on Cold Case.
If you're not familiar with her, get ready, because she's about to make a big splash in the upcoming Starz series, Spartacus: Blood and Sand. She plays Spartacus' wife, Sura, and she's going to surprise you.
She has some great things to say on training and getting for a huge part like this… and she also has something to say about actors who don't stick to the script.
How do you like Comic  Con so far?
I love Comic Con.  I think it's great.  Well, I'm a fan of Comic Con because these are my people because I really enjoy doing genre based television and film and I just think this is really exciting to see everybody that's dressed up.  And anybody that has the commitment and the interest and the excitement to stand in line in the heat for hours and hours and
hours and I just go, "You know what? That's good on you, mate."  That's the way to go.
My favorite is seeing a really big fat guy squeezed into a Batman costume.
(Laughter) Or The Incredibles.  That's what I saw last year.  Yeah, absolutely.
So tell me about your character.
I play Sura, who is the wife of Spartacus, in Spartacus Blood and Sand.  And she is the heart of the series.  As you can see in the trailer, she gets ripped away from Spartacus in the very beginning of the series.  And so we see her through a series of flashbacks and flash forwards, memories, visions that Spartacus has.  She is the thing that keeps him going.  She is the motivation for him to fight and she is the thing that he continues to stay alive for.  And so that's really exciting for me because not only do I get to as you'll see in the show get to be kind of a bada** and have some fight scenes, but I also get to be the loving, soft, vulnerable wife that is standing behind her man and supporting him.  So for me being able to portray a strong woman who is also allowing her husband to be the most important person in her life, I think that's really what it is.  It's a beautiful thing to watch and really a beautiful thing to be able to portray.
I saw some clips of it.  It looks really cool.
Yeah, it's amazing.  To be able to work with people like Rob Tapert and Sam Raimi and Josh Donen and Steven DeKnight, they really, they have the creative vision behind the show that has allowed us to have this incredible playground to just frolic in.  And when you have people that are creating these characters that already are so full and so vibrant and have such a depth to them, all you can do is basically just get out of the way and try not to mess it up.  When you're blessed with good writing, then you really do, you get to only enhance it with what you can bring to it.  And that's really exciting for all of us.  It's a wonderful thing to work on a show when all the actors, and there are a lot of us, we have a pretty big cast.  Where all of the actors every time a new script comes in, they thumb through it and just read it, not just for their lines, but from cover to cover, and they come up and go, "Oh my gosh, can you believe what happens?  Did you read the end of it?  What's gonna happen next week?"  I mean, every episode is so tragic and so heartbreaking.  And the things that happen to these people.  The people who die on this show, you just go "oh my God, what could possibly happen to top that?" Which is really exciting.
How did you prepare for this?  It looks like you kicked a lot of butt.
I kicked a lot of butt. I definitely – I worked with a trainer.  A wonderful woman named Amanda Fubuster.  I tried to work out with the gladiators for a period of time, but I quickly realized that a six-pack and bulging biceps were not going to be appropriate for my character.  But it was more just something of really working out and being able to sustain my body shape.  Because not only was it important for me to be in shape and look like I was strong enough to carry a sword, I needed to also maintain my curves.  I'm a Thraishan village woman, and Thraishan priestess who's ultimately a sex goddess, in a way.  She speaks to the gods.  And also she's the wife of Spartacus, so she needs to be very sexy as well.  So it was very important for me to maintain a certain physique that would be whereas Spartacus, Andy Whitfield, did an incredible job of shaping his body to where, I mean, every woman is just gonna go insane (laughing) when they see him take his shirt off for the first time.  He really just sculpted himself and was so dedicated to creating what Spartacus would look like.  So when we both get our kit off together, I want people to go well he looks damn good, but you know what, so does she.  They look good together.  It's important to maintain a certain look for that.  But that was one thing.  My training as a theatre actor is really also what helped me as far as getting a period piece because I studied Shakespeare at the London Academy of Music and Dramatic Art, and I did some Shakespeare when I came here.  I played Gertrude in Hamlet, I played Lady MacBeth in MacBeth.  And for me, I thought back a lot on my experiences in those productions and how I wrapped my head around the period piece of it.  But then the biggest preparation of all was really just getting to know Andy and getting to wrap our heads around the relationship that our characters had because all of my scenes are with him.  And so, it was really important for us to have a trust and an understanding with one another.  I mean we have to go through some pretty emotionally heavy scenes together.  I mean, there are scenes that Andy and I have to do that I literally, I just look at him, and I just go, how could anyone survive after going through this.  And to be able to have someone like Andy Whitfield who's going to go there emotionally, he's going to make that commitment, it's really exciting.  Because I know that I can trust him.  I know that I can trust him not only with my emotions, but with my physicality as well.
You guys didn't know each other before, right?
No. Interestingly enough, when Andy was auditioning, they pretty much knew it was going to be him, but they wanted to bring in a female to read opposite him to see how he would do with the romantic aspect of the show.  I was the person they brought in, not realizing that I was the person that eventually I would play his wife.  And we ended up doing this scene together on camera and just had this wonderful chemistry immediately and so when ultimately we were both cast and I ended up going out to New Zealand and meeting him, there was automatically a trust and understanding there.  And so we had a few weeks to get to know each other a little bit before things actually started shooting, but it clicked right away.
Did you have any say in the look your character or the things you said in the script?
The producers were really good about being open.  For me, because I have a Shakespearean background, my initial impulse is to say what's on the page.  I hate it, I hate it when actors go in and try to improv and say their own lines and throw in all these – I'm like you know what?  If you were good enough to write it, you should go write your own script.  But until then, you should let the people who wrote the script, write the script and you just try to say what's on the page.  And if something really doesn't work, after you've spent a day or two with it and you've really tried to work it out, talk to the people in the scene, they might have some input that might help you with it.  And if you still can't get it, then you go to the writer and say, what do you think?  I want to make this work, I'm having a little bit of a problem with this one line.  And nine times out of ten, Steven was more than happy to go you know what?  Let me look at it.  And sometimes he would change it and sometimes he would go just say what's on the page.  And we'd make it work.  And that's what a professional does.
That's so awesome.  Like 99% of other actors would change it right there.
Oh no no no no no.  That doesn't work for me.  I will be like, CUT!