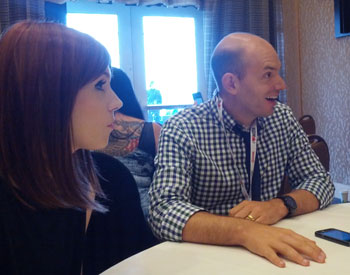 Comic-Con: The cast of Adult Swim's NTSF:SD:SUV came to Comic-Con to give the crowd a peek at what's to come this season and here's a hint: it's hilarious!
The show stars Paul Scheer, Kate Mulgrew, Brandon Johnson, June Diane Raphael, Rob Riggle, Martin Starr, Peter Serafinowicz and welcomes Karen Gillan (Dr. Who) as their newest cast member. NTSF follows Special Agent Trent Hauser (Scheer) and his elite counter-terrorist unit, the NTSF:SD:SUV:: (National Terrorist Strike Force: San Diego: Sport Utility Vehicle::) This year, Trent and his team will employ some of the riskiest methods they've ever attempted in order to bring down San Diegan terrorist scum, including surgically swapping faces with each other, kidnapping an alien, faking their own deaths, getting into the viral video biz, unfreezing a former 1960's radical, boarding Comic-Con Air, and heading into the dangerous British District of San Diego (which was shot on location in London. England!)
In this roundtable interview, Paul, Karen and Executive Jonathan Stern talk about their guest star wish list (paging William Shatner!), filming in London and how Karen's character is introduced (or not introduced), how a lack of money makes them more creative and more!
Check it out below!