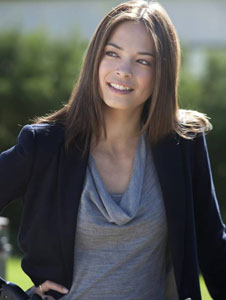 Fans of The CW's Beauty and the Beast are "rabid" and star Kristen Kreuk loves that about them.
I talked to Kristen at WonderCon right before she was to appear on the panel for the show and in the roundtable interview, she talks about how she got involved in Beauty and the Beast, if she ever reads the internet forums and keeping in touch with her Smallville friends. 
And as a little added bonus, there's also a couple minutes with Executive Producer Sherri Cooper-Landsman where she talks about Kristen and how great of an actress she is and how she does her own stunts.
Beauty and the Beast airs at 9pm on Thursdays on The CW
How much have the producers clued you in to what the season finale is going to be?
Kristen Kreuk:  I know the whole thing. So…
Start reenacting it for us right now.
Kristen Kreuk: No, I wont. I'm not. I won't do it.
What about next season though?
Kristen Kreuk: I can't think that far ahead. We don't even know if we have a second season.
When do you find out about that?
Kristen Kreuk: Well, I think we'll find out close to upfronts. I mean, because the show is performing decently but not, like, exceedingly well, it's just… I think it's just we've got to wait and see.
You guys have got rabid fans though.
Kristen Kreuk: They're rabid. I don't know what we tapped into. It feels like… it feels stronger than Smallville fans in some ways. I know. But the intensity. It's a smaller group, but the intensity of it is so strong, it blows my mind. I'm like, wow.
What do you think it is?
Kristen Kreuk: I don't know. It feels similar to a Twilight thing I think. I think.
That can be a good thing.
Kristen Kreuk: Yeah. I think it is. I mean, I think it's really wonderful how passionate they are about a love story. I don't know how we did that, I really don't. And I'm kind of in awe of it. I'm like, wow, they really are committed to this.
Were you surprised that Kat and Vincent got to kiss so soon in the series?
Kristen Kreuk: That wasn't the original plan.
What was?
Kristen Kreuk: I think to hold off. I think it really was. But nothing was, like, we changed… I mean, it's obvious. We changed the direction of this show so much. I'm surprised but I like it. I like exploring the relationship as opposed to, "Yes, no, yes, no." Like, that's not as interesting to me and maybe it's because I'm 30 and I just wanna know. Like, I wanna just get in the relationship and see how it goes from there. You know?
How else do you propose keeping that romance going and keeping it interesting?
Kristen Kreuk: Well, it's funny. I watched this… I'm gonna go into a shpeal. I always do this. I watched this Ted Talk that was really great about desire versus, like, love and long term relationships, just to go into this. But it's interesting because a big part of what keeps us desiring somebody has to do with distance, them being in their prime, like seeing the person that you're drawn to or attracted to doing… like, say they're a singer singing and you're like, "Wow, they're so attractive."
So with Vincent and Katherine, their lives are always on the line. There's always a threat that's keeping them apart. So desire is innately there all the time. It's like you're constantly possibly losing this person that you love. There's never any stillness. There almost isn't enough time to be in a love space which is much more about familiarity and building a safety and a comfort with somebody, which they have but it's so constantly being challenged that there's always that desire, which is what I think an audience likes to see is that, like, heat. You know? But in that kind of dangerous environment, it's always there. That's my shpeal.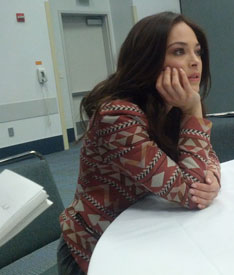 Do you ever go online and read the forums and see what people are talking about the show?
Kristen Kreuk: Well, now that I'm on Twitter, it's like constant, which I never used to do. But with Twitter, it's like so… you see everyone's opinions right away, which is I think good and bad. You know? Because you don't want to shape everything to general public opinion. You know? You wanna have a story that you're telling outside of that. But, yeah, it's interesting. It's interesting to watch that unfold.
What was the thing that initially got you into this? Because, I mean, if somebody says, "Hey, let's redo an 80's show," you can expect a disaster like Charlie's Angels.
Kristen Kreuk: It could be a disaster.
What got you into this?
Kristen Kreuk: Sherry and Jennifer. I really love the girls who created the show a lot. They're just… I love them and I can go and be like, "This thing isn't working in this script for me and it feels like this," and they're like, "Ok," and work on it. You know? And I can, I don't know, it's just really special that way.
There are some photos from the Canadian Screen Awards where you're reunited with Erica Durance from Smallville. Is there any chance of seeing her or Allison Mack on the show?
Kristen Kreuk: Erica and I, and Allison and I too, are really good friends. Like, I just had dinner with Erica the other night. She's got her show, so she's busy being a doctor [on Saving Hope], but she's in Toronto until September and we've talked about stories. I mean, they both have said they would be willing to come and play. That doesn't mean anything necessarily, but I want it to be the right role. You know? But I'd love to have them. They're both awesome.
Are there any Smallville people that are planning to pop by?
Kristen Kreuk: Well, I mean, the girls are really the ones I've talked to but we have never, I mean, there's nothing set in stone and it's all just talk and it won't happen this year, you know. It's, I mean, we're almost done shooting. But if we had a second season and there was the right story, I know that they're in… it would be fun for us.
And here's a small portion of the roundtable interview with Executive Producer Sherri Cooper-Landsman
After working with Kristin on Smallville, what were some of the things that you really wanted to focus on giving her a chance to do in a show that she's the center of?
Sherri Cooper-Landsman: Actually the episode they're gonna air part of it today, it was kind of a nice moment for me just having watched for her for so long. She is really… she is fantastic. I mean, she's really phenomenal, this episode in particular. I think because there's a lot of moments where she can't be saying the thing that she's thinking and as an actor it's really hard to portray those inner dialogues without even being able to say one word because the people you're talking to are the people that you're trying to hide everything from.
In particular it was a couple of moments, there was one scene actually, that won't be seen today, that you have to wait and watch on air, but that I literally was watching it just thinking, "This is… she's become such an incredible, like, multi layered actor." And, you know, I always… like, she never disappoints. You always write something and it always comes in exactly as you would hope it would and I think this… for whatever reason when I in the editing room on this episode, I really got these moments of being able to see her… see it all from, like, a more objective point of view and removed a little bit more. I don't know why. But I… it was a really great experience because I was like there is nothing I feel like after watching this episode, there is nothing that I could ever throw at her that she wouldn't be able to nail and elevate. And so she did… she just… it's been really exciting.
I mean, she was great on Smallville, I loved her performance. I think what's neat about this show for her is that it has… because it is about her, there's… you see a lot more of the sides of her life than you do when, you know, it's a character who's on for 12 minutes out of the 40 some minutes.
Were you actually pulling from her experiences? Like you do have martial arts, you know, some kind of gymnastic background?
Sherri Cooper-Landsman: Yeah. Well, I mean, she's… her stunt work is great. It's always nice. She really puts herself into it. But I think also just like you get to know the character in a way and know what's gonna be emotionally hit for Kristin and what's gonna be compelling for her. And so it makes it fun to write too because you know kind of the moments that she's really gonna grab onto and enjoy.